In a distant age, at the edge of the galaxy, on a planet named Voek ( UWP: D525A76-6), industrial facilities in the wasteland churn out power generators, spaceship parts, and other machinery for the Grand Imperial Duchy of Abiodun.
Overview – Gamma Complex* is a city-sized science-fiction role-playing setting where a monopolistic corporation, criminal syndicate, royal family, communist dictatorship, or other totalitarian group controls every aspect of life for the residents of the technocratic, massive, hyper-efficient habitable Complex.
The corridor walls of the huge indoor Complex are covered in official murals and motivational posters, and the gray plasticrete passages stretching throughout connect the pay-by-the-minute sleeping-tube warrens to the various work areas and corporate-run stores.
Outside the habitable complex, in the thin air, an immense Scrapyard sprawls for many kilometers. Beyond that, rocky badlands with sparse bits of alien scrub stretch out to the horizon in every direction.
Many workers are in debt to the corporation, and if unable to refinance or get loans, can not afford places to sleep, and eventually, due to their negative credit ratings are only allowed in the access corridors and outside where the atmosphere is thin and their only hope of clearing their debts is bringing in valuable materials from the Scrapyards.
Others, desperate, cunning, or otherwise, take advantage of the Ducal Corporation's Crime Reporter's Service, which offers large Gamma Credit (GC) bounties (usually between %5-%20 of the total fine) for any information leading to the fining of any who steal or otherwise violate corporate policy.
The local industry involves significant material recapturing programs, which on planet Voek are concentrated around Gamma Complex, an immense enclosed city-sized building towering over an endless scrapyard. The major industry at Gamma Complex is managing the waste materials from industry in a way that captures valuable materials and keeps costs down.
The whole planet is under the jurisdiction of the Duke of Abiodun. Those without noble titles or connections have little recourse to the law. Workers are classified by the Ducal Corporation into different groups based on their credit scores. The richest Contractors are the Purples, followed by the Greens, Blues, Yellows, Oranges, Browns, and finally, those with debt, the Reds. Workers are required to wear clothes of colors matching their Credit Band – usually some type of work jumpsuit.
Contractors – Most workers at Gamma Complex are "Contractors" or "Sophant Resources" who have made legally recognized arrangements (weather voluntarily, or under duress, or as a result of their parents' debts) to sell their labor for a period of time. As part of their local job assignments, they are given a certain number of Gamma Credits (GC or GC's) per local work rotation. Those workers who come from offworld are often delivered to Gamma Complex with significant debts already owed, such as for transport and feeding while being brought to Voek. Many have been sold off as "work-release-prisoners" or "undesirables" under system law from some world or another. Others were born here, inheritors of their parents' debts. Everyone is required to wear color-coded clothes and mandatory position-tracking name-plates that all visually indicate their job duties, and therefore pay grade and relative status.
Contractor Grades are as follows, and represent cash or credit equal to:
PURPLE – 25 or more Megacredits
GREEN – at least 5 Megacredits
BLUE – at least 1 Megacredit
YELLOW – 500,000 – 100,000 credits
ORANGE – 100,000 – 10,000 credits
BROWN – 10,000 – 0 credits
RED – 0 or fewer credits
Law – Within Gamma Complex and in the Scrapyard the central authorities have total control and tracking of the Contractors' movements. Contractors can use their nametag-badges to access their work areas and any recreational or sleeping areas that they can pay for. Those without Corporate authorization to be at Gamma Complex will be arrested, subdued if need be, imprisoned, fined, assessed for work skills, and then offered a Corporate Contract to refinance their fees and then pay off the debt over the course of many years. Depending on the contract, interest rates on loaned credits can be quite high, and Contractors often find themselves in debt from which they can never realistically escape.
Crime – All crimes are punished with monetary fines in the form of GCs. From indecency, public intoxication, and vagrancy, to theft, to assault, and other violent crimes, all result in lost Gamma Credits, or if destitute, with debt. Particularity heinous crimes are met with fines in the millions of credits. Those with sufficiently high debts (such as murderers) are concentrated in high-security areas from which they can only access the Junkyard (usually referred to as "The Kennels"). Anyone with a negative credit score (aka debt) is classified as a "Red", and is required to wear a red jumpsuit to identify themselves. Wearing the wrong color clothing is punished by a heavy fine.
Contractors can also earn small GC rewards for reporting crimes that result in assignment of fees. Usually they earn %5-%20 of any fees levied, varying somewhat depending on the individual contracts and crimes. As a result, the Contractors of Gamma Complex are quick to report any theft, vagrancy, malingering, anti-company-plotting or other "morale code of conduct violations"** to the Corporate authorities. This of course results in false accusations for profit or out of spite, which if caught itself results in a major fine.
Economy – The Ducal Corporation that owns and operates Gamma Complex provides dispensaries where registered Contractors can spend GCs for food, clothing, and other necessities. Sleeping arrangements are paid for by the minute in a vast complex of Corporation owned and operated accommodations. Steep interest rates are charged for any debits workers incur. Debt refinance and consolidation are available, but only from the Corporation. Some seek loans from illegal underground criminal groups. Either way, debtors usually end up in worse debt.
The entire complex is overseen and run from a central command center, where cameras scan every corridor, tracking badges and color-coded clothes are required at all times, and any one without proper clothes, noble connections, or lots of GCs to spend is going to be reported to central security for intruder interrogation or, if resisting arrest, neutralization.
Due to the ever-lowering wages, and the ever-escalating food and sleep-minute charges, the only way to survive in Gamma Complex is to continuously out-compete all of the other workers. Those whos' Ducal GC debits remain in the negative cannot buy accommodations must go out into the sprawling Scrapyard where all of the planet's industrial waste is dumped. There, robots and workers dig out the most valuable bits and bring them back to exchange for GCs.
The Scrapyards – The Scrapyards stretch for miles in every direction around Gamma Complex, interrupted only by the spaceyard landing pads and the ribbon of raised plasticrete roadway, a ribbon of white soaring high above the Scrapyards on high arches, carrying roaring supersonic trains and whizzing cars over the horizon towards the planet's main starport at Sigma Complex.
In the scrapyard huge machines slowly push around mountains of junk, which sky-screeching cargo shuttles and smelly, creaking dump trucks deposit in ever-growing piles. Mobile smelting bots pick bits of metal and drop them into their furnaces. The resulting ocean of trash constantly swells, heaves, and falls in super-slow motion waves as the machines and Contractors methodically sort through, and fight over the scrap.
Scrapyard Encounters
Characters who are not protected from hazardous materials or connected to the Corporation's extensive and ever-changing material-cataloging database, and who travel in the Scrapyard risk the following encounters (roll 2d6 as often as appropriate, such as when entering a new area, or pausing and engaging in loud conversation):
2 – An Enormous Mutant beast lurking in the sludge attacks, or perhaps the PCs risk falling into a dangerous but hidden toxic sludge pit or similar hazard?
3 – A huge mobile refinery-robot-smelter threatens to scoop up and melt the PCs, or some other huge machinery like a crane, trash shuttle or dump truck is about to carelessly or maliciously drop a huge amount of trash on them and crush them…
4 – Radioligical or bioligical hazard that looks like good salvage – a warhead, data cache corrupted with a computer virus, special ammunition, etc.
5 – Attacked by a larger force of salvagers in red jumpsuits, who will take whatever they can.
6 – 8 Panopticon in the Junkyard
If spotted by a patrol in flying car, or a snoopy or Gamma-Credit-hungry shuttle, ship, worker, robot, or satellite, the PCs might be stopped and questioned by Corporate security. They will fly up in an Corporate Security vehicle and demand that the PCs present official Corporate ID or be immediately subdued and arrested. If arrested for unauthorized presence, non-Contractors will be fined a hefty fee, and then be offered a contract to work for the Ducal Corporation to pay off their fees. Those who sign are evaluated for fitness for work assignment, and then given work duties according to their abilities, with varying pay based on worker availability and seniority. Most unauthorized persons end up like the majority of residents at Gamma Complex: in an ever-deepening debt that can probably never be paid off. Those who refuse to sign up for a Contract will be assigned to the extremely onerous Default Contract and put to work in the Scrapyard.
9 – Scrap dealer or collection station – the PCs find a place where someone is buying scrap, whether for GCs, or barter, or whatever else, or perhaps an automated station or giant land crawler that is accepting choice scrap for secure transport back to the smelters and factories.
10 – Useful scrap of some type – Space-radio? Jet packs? Food? A friendly but damaged robot? Skeleton key for their space-handcuffs?
11 – Puppet Masters Ship – Standing among the heaps of junk and trash, an off-kilter beat-up 1950's Earth-style refrigerator lies with it's door-side tilted up at the sky like a swollen belly. Behind the door of the beat up refrigerator is a multi-dimensional-reality-jumping-ship operated by insectoid creatures known as Puppet Masters (see Class of 199x). They bring their ship here sometimes to collect materials and kidnap people to use as mind-controlled slaves. Entering requires significant work to bypass the super hi-tech / magically warded door, or the use of one of the mind-control collars that all of the Puppet Master slaves wear.
12 – Overlooked Salvage – for some reason this very valuable piece of salvage, be it a trophy, piece of technology, spaceship or vehicle of questionable quality, or a massive gemstone or idol) has been misplaced in the Scrapyard.
Outside of Gamma Complex
In the huge wasteland around Gamma Complex the people are mostly escapees from the Junkyard or the non-employees: a group of humanoids, mostly Voekian natives, who have adapted to the local toxic environment to various degrees. Some have advantageous mutations, but most just die, be it slowly or quickly.
Terrible creatures great and small, and wondrous ones as well, thinly pepper the harsh scrub of the highlands for many miles.
FIN
*with much love to Paranoia the RPG, and hilarious memories of nonsense in Alpha Complex, back in 1998x-199x!
** including belonging to or associating with any organized group, political party, fellowship, union, cult, or religion

Posted in Campaign Setting, Location, Lore / Worldbuilding, Region, rules agnostic, Science-Fiction, Traveller and tagged Class of 198X, ClassOf198X, Paranoia, Skein Reach by Adam A. Thompson with no comments yet.
The inhabitants of Marzox 2, a metal-rich jungle world on the Empire's border with the Skein Reach, are a bipedal reptilian race with great size and strength, but a metabolic reliance on warm temperatures. Their planet was purged of life by an Imperial Bombardment Fleet when the planetary resistance refused to submit to the Imperial Crusade sent to pacify the planet.
Their Strength and Agility attributes are both +1 during character creation, and their Social attributes are -2 due to their status as refugees from a rebellious and heretical planet.
They stand an average of 2 meters tall, though they measure closer to 4 meters in length from snout to tail, and weigh an average of 80 kilograms. They are hermaphroditic when need be, but in their society on Marzox 2 they mainly reproduced sexually within complex cyclic social cultures which took macro-environmental factors into consideration.
Marzoxians are most comfortable in a humid environment of 30 degrees Celsius, but are comfortable (if slightly spastic) up to 45 degrees.
When in environments colder than 20 degrees Celsius without special clothing such as a vacc suit Marzoxians suffer a -1 DM to all rolls.
Below 10 degrees Celsius Marzoxians must make Endurance checks to take any actions, with an additional -2 DM to the Endurance check per 10 degrees colder.

Posted in Race, Traveller and tagged Skein Reach by Adam A. Thompson with no comments yet.
This fantasy role-playing game scenario is the lair of the Wyrm of Etiniga, the draconic creature from the adventure: The Suitor's Challenge. I also used a shorter, modified version of this dungeon for the medieval age dungeon in season 2 of Class of 198x. This map could also serve as basically any dragonlike creature's lair in your home game.
Creatures
As the person running the game, select a number and type of creatures for the below encounters according to what seems appropriate to the characters attempting to delve the dungeon. The scenario probably entails navigating three to five encounters, so a gamut of medium and hard encounters is probably appropriate, based on Player Character number and level (consult your Monster Manual and Dungeon Master's Guide or equivalent books for more guidelines on this topic). My advice: make it hard, but not impossible. Don't be afraid to throw in a couple of reinforcements (on either side) when appropriate, but overall try to present a difficult but achievable scenario.
Entrance
Situated in a large natural cavern hidden in the ravine past the hills north of Vistola, the lair of the cursed Wyrm of Etiniga's maw stands open. A cavern in the side of a ravine, twenty feet wide and receding into the yawning darkness of a larger chamber ahead. Close examination of the gravely ground reveals clawed footprints of a variety of sizes, among dry old bloodstains.
Areas
1) Gruesome Display
A pile of broken animals, people, and weapons have been arranged into a sort of horrid meat-drying scaffolding in this chamber. The corpses are in varying stages of decay and bear jagged bite marks on whatever is left of them. Broad natural stone passages lead to the left and to the right.
Loud noises in this chamber will alert the kobolds and lizardfolk to the right in areas 3 and 4.
2) Chasm
This passage is bisected by a twenty foot deep crack in the stone, at the base of which a shallow underground stream flows. The walls bear black moss and faintly glowing white lichen.
Climbing up or down is a difficult task (DC 20) due to the moisture and the slick growths on the walls.
3) Lizardfolk
The warband of lizardfolk who have come to the caves to worship the Wyrm and raid the countryside live in this cavern, eating from the corpses in area 1 and otherwise being served by the kobolds. Among them is a war shaman who will aid them with magic against intruders. The lizardfolk warband spends its time eating, resting, and raiding the surrounding countryside, dragging back both shepard and sheep upon which to feast.
They will lead the attack against intruders, backed up by the kobolds and the shaman as their leader.
4) Kobolds
Numerous kobolds already lived in nearby caves when the Wyrm arrived, and have come here to join in the worship and feasting. They mainly live in this cavern, and perform most of their domestic tasks here from cooking over small firepits to coppersmithing spear heads and knives.
They will join the lizardfolk in defense of the caverns, taking advantage of the narrow passages that connect areas 4, 5 and 7 to flank and sneak up on intruders. Medium sized creatures must squeeze through the narrow passages at half speed, and are at disadvantage to attacking foes and defending themselves.
5) Idol
The kobolds and lizardfolk have built a shrine here to the Wyrm: a stone block with a silver-and-gold gilded idol of the serpentine Wyrm with eyes of garnet. Piled up at the base of the altar is the wealth of the tribe, including several boxes of sandalwood incense, one hundred gold coins, twice as many pieces of silver coin, and a pot of healing balm which will heal 2d4+3 hit points when applied to wounds.
The shaman will make their last stand here against intruders and will fight to the death to protect the shrine.
The idol itself is is worth 200 gold, but it is also warded with a curse, and the first non-lizardfolk to touch it will take 3d8 points of acid damage, unless they make a Constitution save for half damage.
6) Fungi and Slime
Putrid-smelling green slime drips from the ceiling of this shallow bowl of a cavern. Below, grayish gunk stirs slightly among shards of bone and dark smelly spoor.
Creatures entering the cavern will be dripped upon by the green slime on the ceiling, and attacked by the gray ooze on the ground. Unless they succeed on stealth checks, those who pass by this cavern are likely to be pursued by at least one gray ooze.
For lower level parties, consider using Blue Oozes instead of gray oozes.
7) Chasm
This large cavern is split by a 30 foot deep crack in the stone ground.
The chasm is difficult to climb up and down, but the Wyrm can arch across it without difficulty.
Loud noises in this cavern will attract the ire of the Wyrm.
8) Wyrm
The Wyrm of Etrigia lies here, a gleaming shiny black mass of coils and claws, making gruesome noises.
If using the True Love plot twist version of this adventure, medium difficulty (DC 15) Sense Motive skill checks will reveal the beast appears to be in pain, and is writhing and scratching at itself, biting its tail, all without piercing its scaly hide. With successful Perception checks, of if the princess has accompanied the party she will recognize the silver necklace around the serpentine creature's neck as the one she gave to her true love. If she can kiss the willing beast, the curse will be broken and the Wyrm will revert to their former self.
Otherwise the Wyrm will attack, kill, and then eat any who intrude, or those making loud noises in the adjacent cavern (area 7, above).
The Wyrm's hide is invulnerable to non-magical slashing and piercing damage, and will make a grand prize for any who can collect it. If the Wyrm is slain its scales can be made into hide armor that grants the wearer resistance to slashing and piercing damage. This legendary magic item requires attunement.

Posted in 1st edition D&D, 3rd edition Dungeons & Dragons / d20 fantasy / Pathfinder, 5th edition Dungeons & Dragons, Adventure, Fantasy, rules agnostic by Adam A. Thompson with no comments yet.
This last weekend I went to GaryCon up in beautiful, chilly Lake Geneva Wisconsin, and I had a great time! I met up with old friends and made some new ones, and we all played a bunch of games and enjoyed the great company. Here are some highlights from the con for me.
Games
I ran a session of Vampyre Women of Venus, the board game that we put out a couple of years ago. We had two ticketholders show up and one player drop in, thanks to the great table flag system. We played though to the co-operative victory and then played some homebrew rules that Jayden came up with for the post-rocketship-part-collection escape from the suddenly moving Vampyre Queen.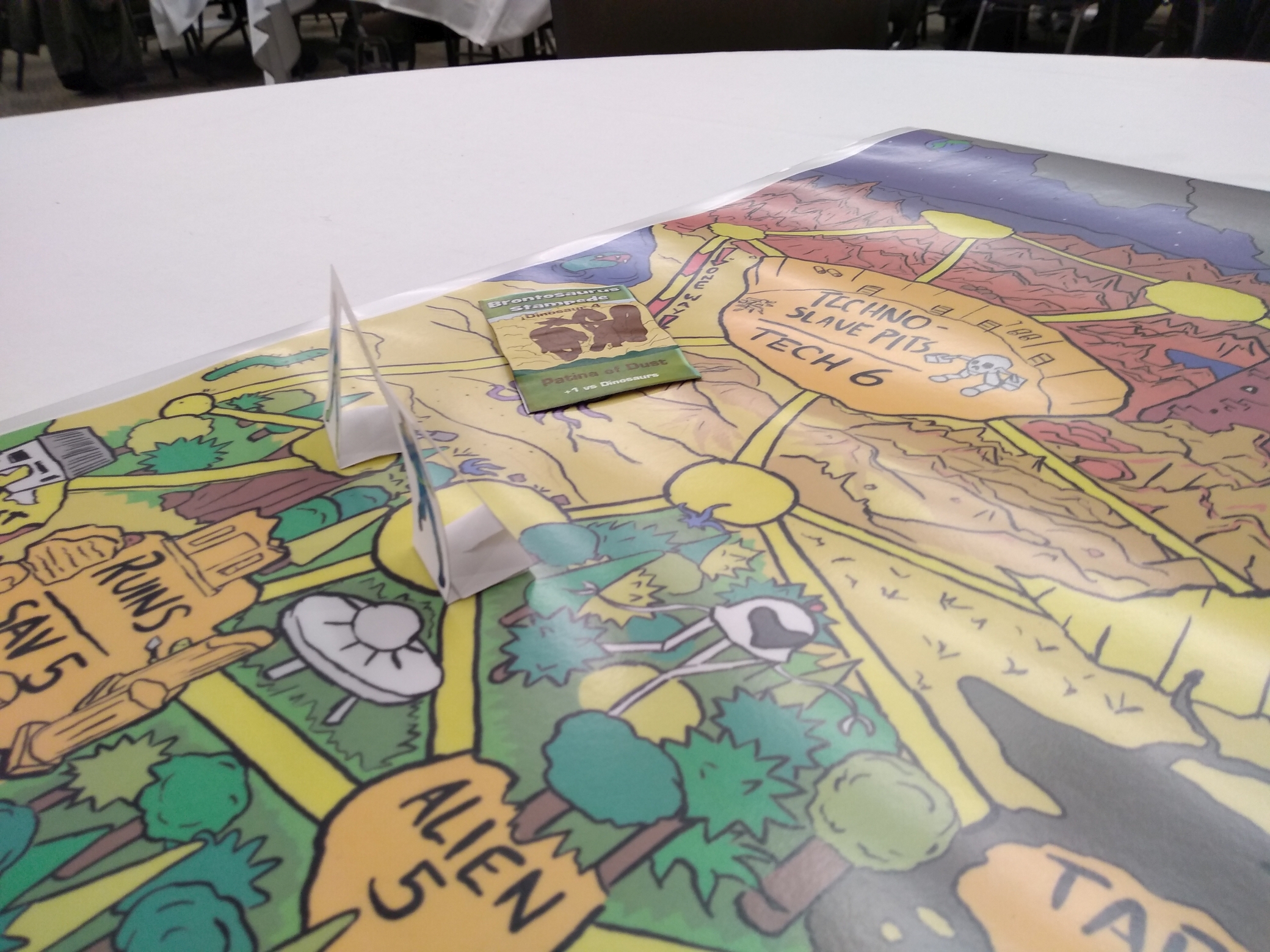 All told I got some great new ideas for the game, including a new version of the rules where undefeated Venus cards remain in the space where they were drawn for other players to try to challenge. This builds the map as it is explored and creates more opportunity for strategy.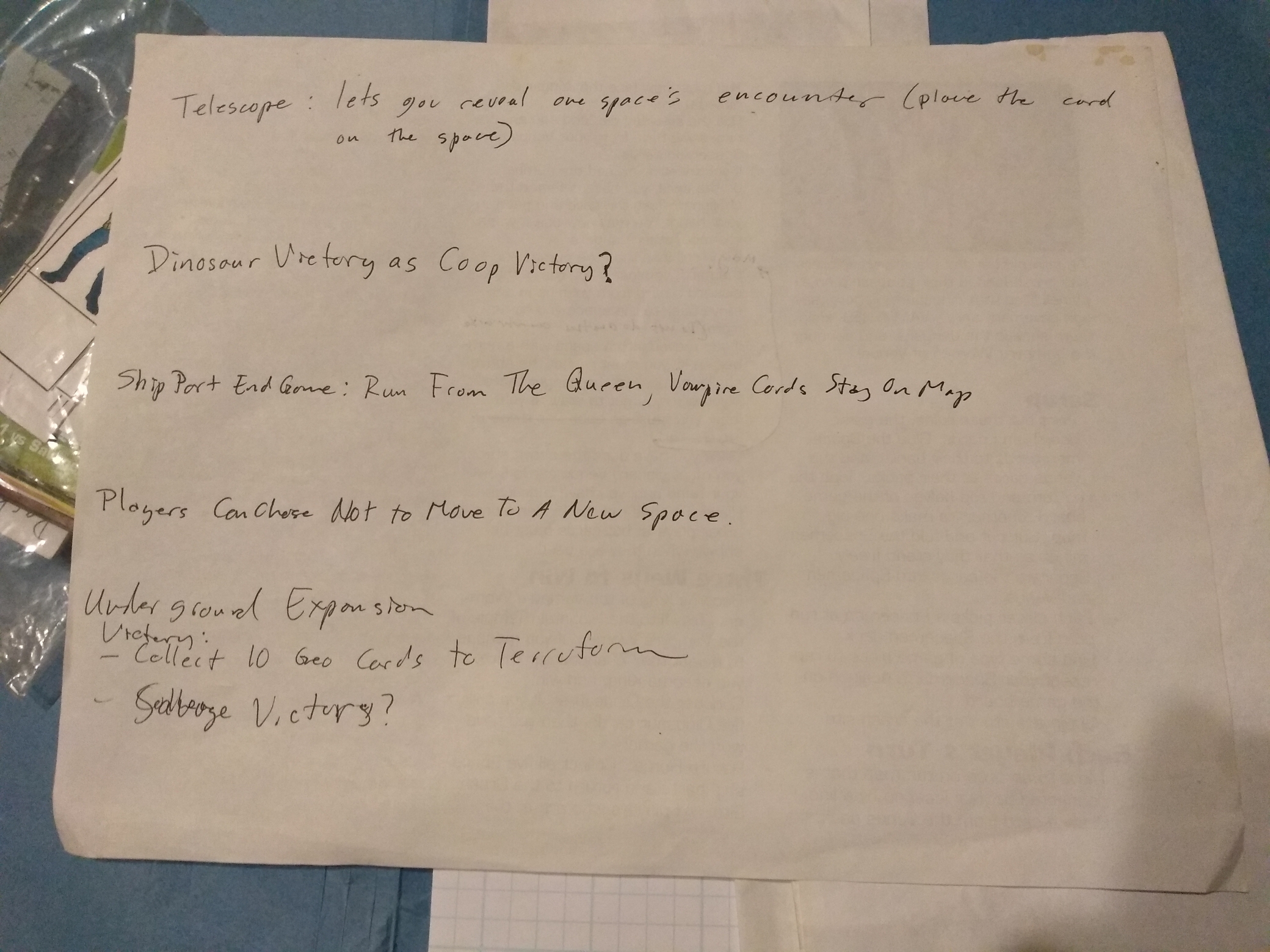 I also ran a session of what's becoming my favorite scenario: my D&D convention version of Into The Unknown (B1), which I update every time a group runs through it. This time, very impressively, the group actually managed to complete the scenario, both finding their way to the final encounter and defeating all portions of it for a flawless victory! Well done, all. Prizes are on the way.
Table Flags
One of the best things about the convention, and something I hadn't ever seen at one, was the table flags. These flags served two purposes. First, there were red and green cards so that a table could indicate if they had any openings for new players to join.
But even more exciting was the yellow flag, which we raised when we wanted to order from the tableside menu. The food was really good, and the beer was cold and cheap with the GaryCon cup I got as a GM. It was truly excellent. I ran an eight hour session and ate healthily and felt great.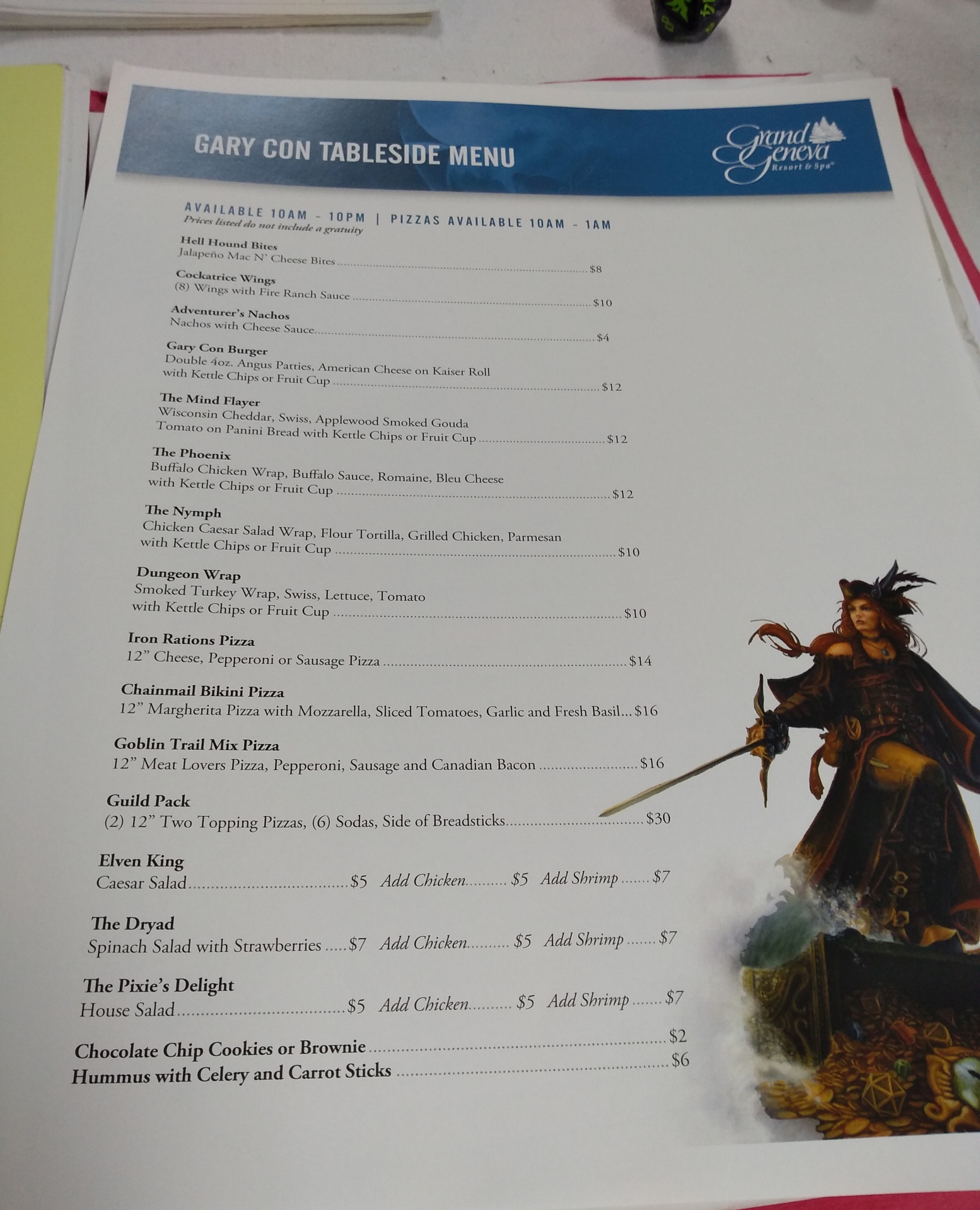 Museum
The role-playing game history museum they had set up was AMAZING! In the wargame room, next to the TSR Joust tournament, was a mini-museum display with great information about the early days of Dave Arneson and Gary Gygax's gaming days. Seeing Arneson's original dice and clay dragon figurine really touched me.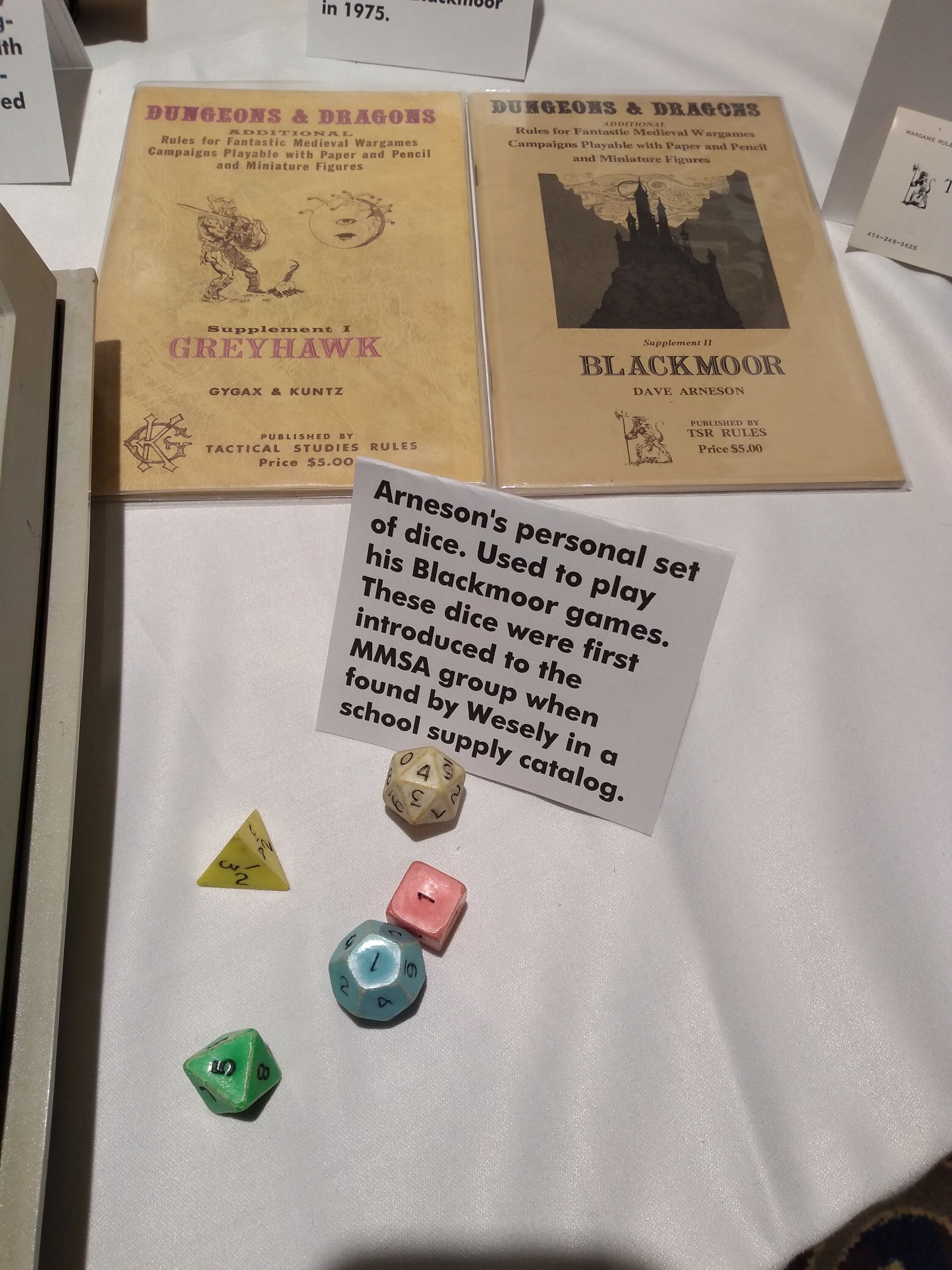 Socially, I got to hang out with Stephan Porkny and the HawaiiCon crew, meet a whole bunch of nice new people, and see some live-streaming celebrity D&D from behind the curtain, instead of in front of the cameras for once. It was great seeing everyone and hanging out. As it always is for me at a con, I learned a lot from playing in and watching other people's games.
I'm honored to have been invited and have already booked accommodations for it again next year.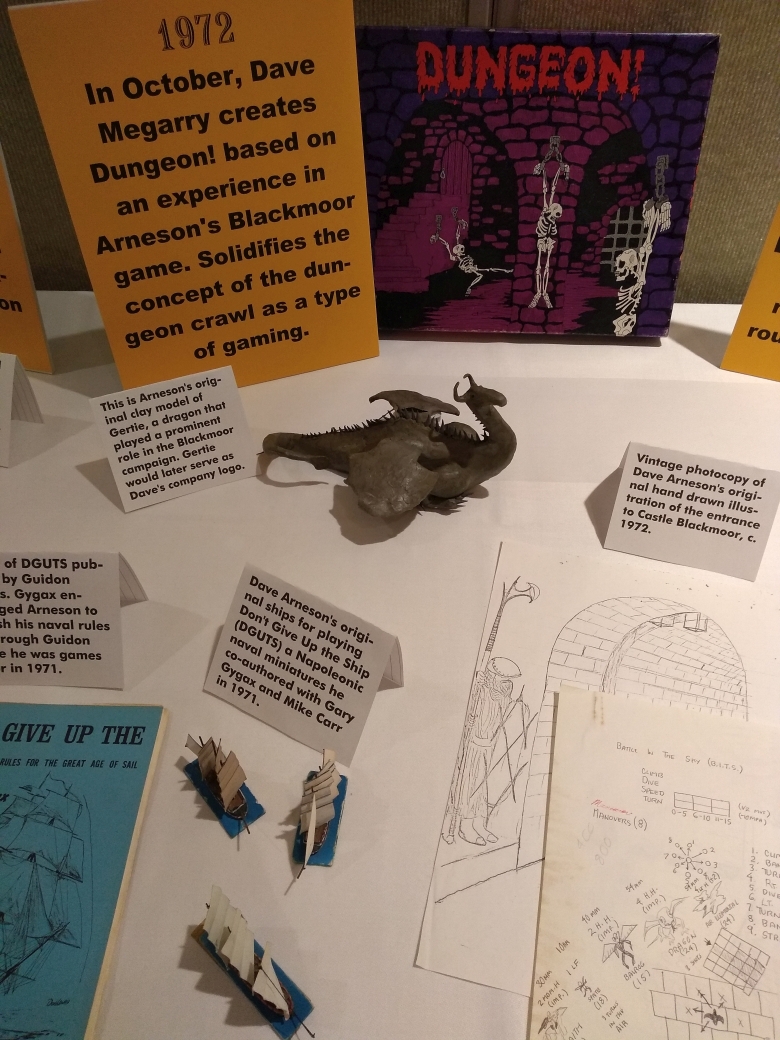 Posted in convention, Review and tagged GaryCon by Adam A. Thompson with no comments yet.
After receiving several requests for this, we've added an uncut copy of the map for Vampyre Women of Venus (available in our store here). Now you can print this single file at any size you like for your home games of VWoV! No cutting or assembly required.
We sincerely hope you enjoy, and happy gaming!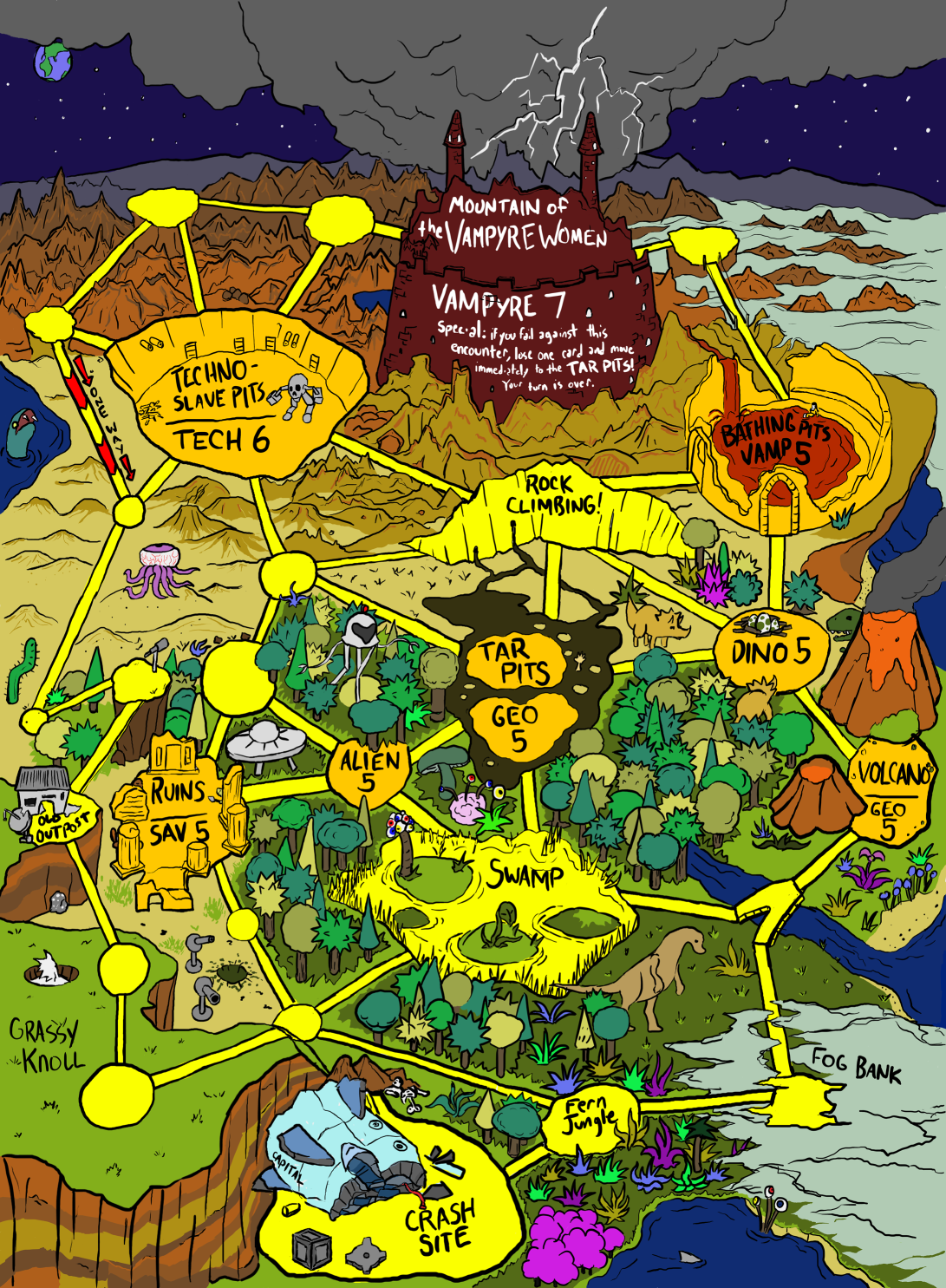 Posted in announcement, Board Game and tagged Vampyre Women of Venus by Adam A. Thompson with 1 comment.
Adam A. Thompson will be running games this spring at OwlCon in Houston, TX and at GaryCon in Lake Geneva, WI.
If you'd like to play some games with Adam, schedules are as follows:
Classic Dungeons & Dragons (5e) – Saturday at 10:00 AM, 8 hours, Student Center: Sammy's:4
Many heroes have traveled into the hills above Verbonbc in search of the rumored lost treasure of Rufulo and Zanzabar. But a new terror inhabited the black craig a month ago – a dragon and evil cultists devoted to it. Now two of the village's children have been kidnapped, slated to be sacrificed in just eight hours! Dare you adventurers venture thither to rescue the children?
Traveller: First Run – Sunday 10 AM, 4 hours, Herring Hall:224:1
Try your hand at one of the original science-fiction role-playing games: Traveller. No previous experience required. In a far-flung future where anything is possible, the players will first create their own characters, earning skills, contacts, and enemies as they journey through the depths of space. Then, events that no one could have predicted will hurl the characters into crisis that could threaten their very lives!
Vampyre Women of Venus Open Play – Friday at 6:00 PM, 4 hours, at Forum C FORC-363
An adventure board game set on a pulp sci-fi planet Venus where the players' rocket ship has crash landed. New players may try their luck every hour with this quick game. Rotating rounds of play should be the norm. Three different ways to win—solo or co-operative. Stop by at the top of any hour to play.
Classic Dungeons & Dragons (5e) – Saturday at 1:00 PM, 8 hours 1777, Westgate A WGA-394
Many heroes have traveled into the hills above Verbonbc in search of the rumored lost treasure of Rufulo and Zanzabar. But lately, a new threat has inhabited the bleak peak: A night-soaring dragon and its reptilian worshipers. Now the cultists have kidnapped some of the village children to be sacrificed to the dragon at midnight! Dare ye adventurers venture thither?

Posted in announcement, convention and tagged GaryCon, news: convention, OwlCon by Adam A. Thompson with no comments yet.
For the 4th edition Dungeons & Dragons players out there, here's a magic item from our unpublished adventure For Love of Evil. Dan and I wrote this adventure to run at GenCon in 2009 – it's a scenario where the 30th level Player Characters are trying to release the ultimate god of evil to unmake the universe.
Berzerker Armor
Lvl 28 +5 2,125,000 gp
Armor: hide, chain, scale, plate
Enhancement: AC, Dexterity & Strength
Property: The player does not keep track of their own hit points while wearing the armor, instead the DM does. In addition, whenever the player wishes to use a healing surge, they must make a saving throw. Success indicates that they can, failure indicates that they instead attack the nearest enemy (via charge etc.) In addition, while bloodied, the wearer of this armor gains +2 to speed and +2 to athletics checks.
Cursed: Removing the armor from a living creature requires a Remove Affliction ritual with a penalty to the Heal check equal to the armor's level.

Posted in 4th edition Dungeons & Dragons, Fantasy, Magic Item and tagged #Berserk by Adam A. Thompson with no comments yet.
Robert Pearce's new Traveller suppliment Starship Geomorphs is a huge new resource for science-fiction gamers, filled with beautiful illustrations, hundreds of starship deckplan geomorphs, and most importantly, really good suggestions for using these modular maps in your home game. Designed to be used to quickly generate starship and spaceport maps, these geomorphs also provide inspiration when designing deck plans for new ships.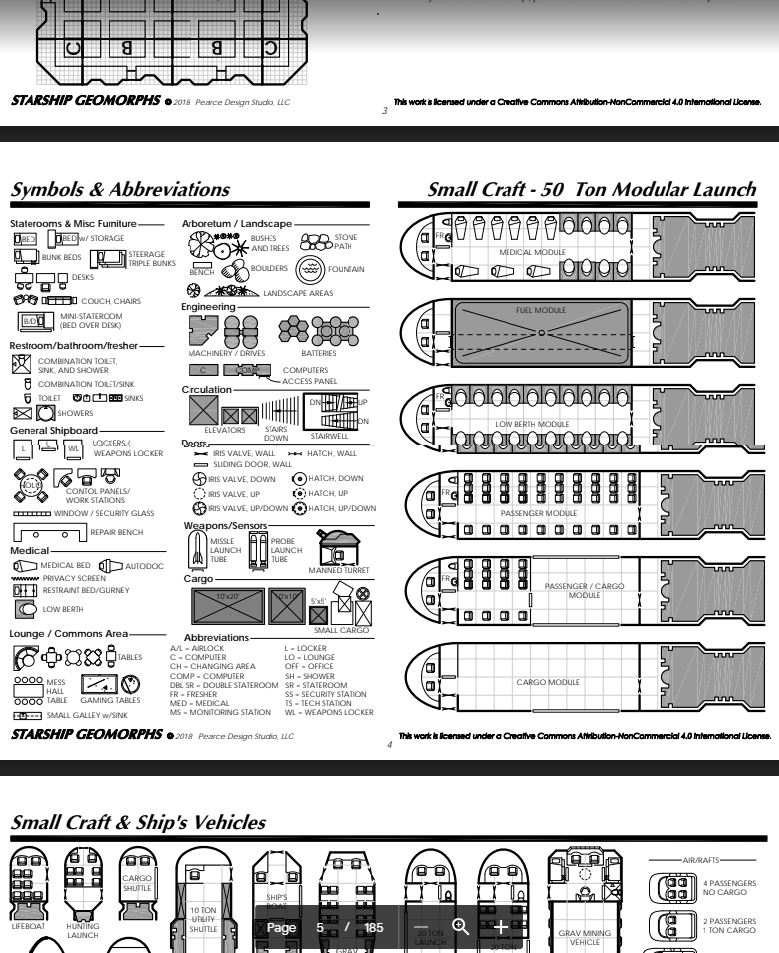 Representing three years of painstaking work, this beautiful 185 page book is a great resource for any science-fiction role-player, and he's made it available as a free download! I recommend it highly to any sci-fi gamemaster, or anyone who wants to design starship interiors.
Included in the free guide are instructions for printing these maps out to use in your home game for both 15mm and 25mm scale miniatures.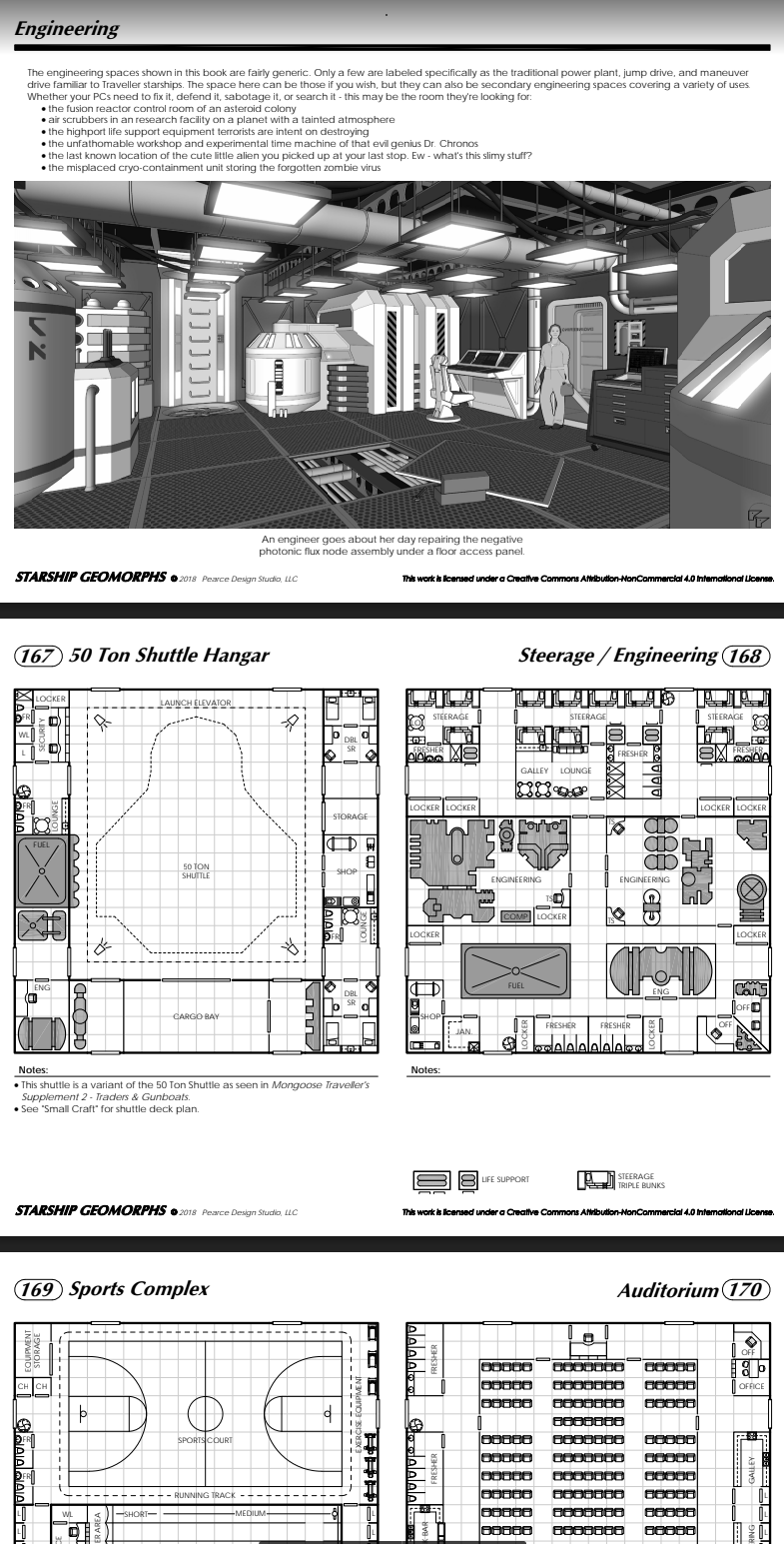 This wonderful resource also includes maps for areas one doesn't usually see in deckplans, like recreation areas, many different common areas, shopping areas, arboretums, viewing galleries, and even agricultural spaces. I will definitely be using these to build out starports and megaships in my Traveller game.

Posted in Editorial, Review, Science-Fiction, Traveller by Adam A. Thompson with no comments yet.