UniCON 2012 – our weekend of gaming on October 20th and 21st will be at Unicorn Rampant Headquarters at 4601 Sara Dr, Austin, Texas.  Gaming starts at 10am on Saturday and goes till 10pm on Sunday.
This will be a free event with tables available for open gaming, and the following games on hand (in addition to whatever games you bring with you):
Dungeons & Dragons
Traveler
Gamma World
Savage Worlds
Divine Right
Quarriors
Munchkin
Illuminati
Epic Spell Wars
Hot Dice
No previous experience necessary: our veteran game masters will be available to teach new players and help everyone have fun.
In addition, we'll be debuting our OSRIC / Advanced Dungeons & Dragons competitive two-party adventure The Siege of Black Mountain (no experience needed, characters to be provided).
To RSVP email us at unicon.convention@gmail.com to let us know you'll be coming, or register on our Warhorn page athttp://warhorn.net/unicon-2012.
If you'd like to run a game at UniCON, please email us at unicon.convention@gmail.com with the following information: your name, the name of the scenario you would like to run, the game system it is in, how many players you can accommodate, the relative level of player experience, and a short description of the game or scenario.  Because we are promoting smaller-profile games, please do not place requirements for experience in the specific system you are running or player-generated characters, as with any con, GMs should be prepared to educate players about the game.
Sorry to all for the change in plans. This year our reach exceeded our grasp, and it's a good thing. Next year our grasp will be stronger for the exertions.
Thanks,
Adam A. Thompson

Posted in convention by Adam A. Thompson with no comments yet.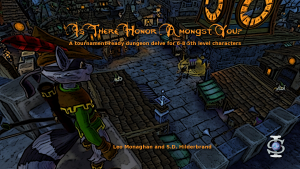 We are pleased to announce the release of our latest adventure, written by S.D. Hilderbrand and Leo Monaghan of Dungeonstone.  From the introduction:
Is There Honor Amongst You? is a tournament-ready dungeon delve for 6-8 5th level rogues.  We have provided eight pregenerated characters at the end of this module, half of which are straight rogues, and the other half of which are multi-classed characters with a few levels of rogue.

Living on the streets of Waymar is a difficult task for those who would live in the shadows. Without the protection of the Guild it seems only a matter of time before your luck runs out, you take one risk too many and end up in either the city's dungeons or its gallows.

Members of the guild however almost never seem to suffer such fates, even when caught they tend to be seen again out on the streets or in the local taverns mere days after their arrest. As such, membership into the Guild is the goal for all those who work outside the law.

Unfortunately, they only recruit once every two years and even then potential applicants must past a rigorous review in order to even be considered for membership…

…And then of course there is the final challenge…

As presented by the guild leader:

"Your goal is to pilfer the most loot from this city lord.  We have bribed his guards and convinced them to take up residence in the local tavern for a period of two hours and not a minute more. Understand that anyone still inside the underground when the time expires will have failed the test and be left to their fate.

…"
Pick up a copy from rpgnow.
The character sheets for these characters are available in a separate document available at clawclawbite.com.
This adventure is Dungeonstone-ready; the map can be built using just a few sets of the leader in stone dungeons.

Posted in Adventure and tagged Is There Honor Amongst You by Stephen Hilderbrand with no comments yet.