Ceevok is one of the characters available for the players in the upcoming 30th level game we'll be running at GenCon next month. The rest of the characters are available to view here.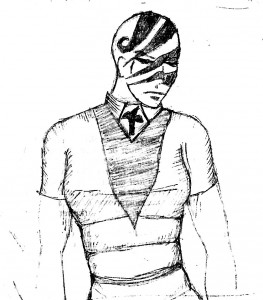 Silent and mysterious, Ceevok speaks only on matters of life and death. As one of the greatest warriors in the grim and mysterious Shadar-kai society, this does not come as much of a surprise. With bow in hand, she has been responsible for slaying some of the most heinous monsters in five planes. At this time, she is entrenched in a quest to release the Chained God, Thardizum, from the Abyss. The vision for this goal came in a dream to her from the Raven Queen, who told her that beings from the Realms beyond the stars threatened the Universe. Only Thardizum has the power to defeat these utterly foreign beings, and must reluctantly be released.
---
Ceevock
Female Shadar-kai ranger 30 Size: Med
Initiative: +26 Senses: Passive Perception: 32 Passive Insight: 32 Low-light Vision
HP: 173 Bloodied: 86 Surge Value: 43 Surges per day: 9
AC: 43 (45 vs opportunity attacks) Fort 38 Ref 41 Will 38
Resist 15 cold and fire
Speed: 7 squares
---
Class Features
Style: Archer Ranger Paragon Path: Battlefield Archer Epic Destiny: Epic Trickster
Prime Shot: +1 to attack against a target if you are nearer to it than any other ally.
Hunter's Quarry (+3d8)
Powers:
At will: Nimble Strike: +33 vs AC / 2d10+ 13, Twin Strike +33 vs Reflex (two attacks) / 2d10 + 6
Encounter: Combined Fire(p), Triple Shot, Manticore's Volley, Lightning Shot
Daily: Quarry's Bane(p), Great Ram Arrow, Tiger's Reflex, Three in one Shot
Utility: Yield Ground, Weave Through the fray, Expeditious Stride, Momentary Respite, Safe Stride, Archer's Glory (P), Epic Trick (E)
Feats:
Defensive Mobility(free)
Heroic: Lethal Hunter, Escape Artist, Durable, Jack of all trades, Weapon Focus: Longbow, Improved Initiative, Paragon: Blood Thirst, Iron Will, Danger Sense, Great Fortitude, Sly Hunter, Point Blank Shot, Epic: Unfettered Stride, Triumphant Attack, Flanking Maneuver, Skill Focus: Dungeoneering and Perception, Armor Specialization: Hide.

---
Skills: Acrobatics: +30, Arcana +20, Athletics +22, Bluff +17, Diplomacy +17, Dungeoneering +25, Endurance +28, Heal +22, History +20, Insight +20, Intimidate +17, Nature +25, Perception +22, Religion +20, Stealth +25, Streetwise +17, Thievery +23
Alignment: Unaligned Languages: Common
Str 16 (+18) Con 16 (+18) Dex 24 (+22) Int 16 (+18) Wis 20 (+20) Cha 11 (+15)
Equipment: Vicious Longbow +6 (+6d12 per critical hit), +6 Trollskin Elderhide (+5 masterwork), Star Opal Ring, Flying Carpet, Cloak of Survival
---

Posted in Uncategorized and tagged creature: epic lurker, For Love of Evil by Adam A. Thompson with no comments yet.