Lovers and bounty hunters, Zab Brennick & Mista Noral were trained as special forces space marines and served in separate units for nearly a dozen years. Imperial Marine companies are strictly gender separated – they are sworn to put aside family as a sacrifice to the Emperor – but their respective companies were both deployed to put down the rebellion that had sprouted on Zaveros-8b. Their units fought side by side in the tunnels and habitations of that moon, and Zab and Mista were surprised to find themselves falling in love.
The Imperial response inflamed the rebellion, and soon the entire Zaveros system burned with the flames of uprising. When Imperial command decided to cut their losses and bombard the rebel capitol Zab and Mista were cut off from their units and left for dead. Determined to start a new life together, they escaped by stealing a ship and fleeing the Imperial fleet.
Now, they co-captain the SS Razor's Edge, a modified Huntress-class starship. Their main trade is bounty hunting, and their preferred tactic is to follow a their quarry to a starport, sabotage their weapons with remote-detonating explosive charges, and attack them as they are preparing to jump out of system.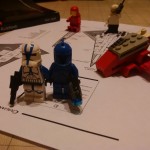 Zab and Mista wear custom combat armor suits with medical sensors which feed vital signals to double dead-man switches. The Razor's Edge ship computer is programmed to fire all weapons, put the engine into thermal overload, and self-destruct if both of them die.
USS Razor Edge, a Huntress with a crew of four, Zab, Mista, and two crew.
Bounty Hunters – Zab Brennick & Mista Noral
Naval (Crew) 3, UCP 8 8 8 8 8 6,
Pilot (spacecraft) 2, Mechanic 1, Vacc Suit 1, Zero-G 1, Comms 0, Sensors 1, Gunnery (turret) 2, Engineer (P-plant) 1, Engineer (life support) 1, Remote Operations 0, Melee (unarmed) 1, Gun Combat (rifle) 1,
combat armor (armor 12), laser rifle (5d6)
Crew – Jim Heward & Mike Landa
UCP 777777, engineering 1, navigation 1, repair 1, sensors 0, gunnery 0, gun combat 0
boarding vac suit (armor 8),
laser carbine (4d6)
Encounter Hooks:
The player characters (PCs) have crossed the wrong person and earned a bounty somehow, and the Razor's Edge finds them by chance.
It's a case of mistaken identity, but the crew of the Razor's Edge think the player characters are wanted. It may be that their ship is a close match to a wanted ship. Regardless of the truth of the situation, they sabotage the PCs' ship's weapons and attack them.
The players have the opportunity to hire the Razor's Edge to assist with a mission that's beyond the PC's abilities.
The Razor's Edge is hunting the same live-capture bounty the PCs are. Maybe they try to beat the PCs to the punch and get the target first. Or they might lay in wait and attack the PCs as soon as they have the target in custody.
The PCs, who have no starship, sign on as crew of the Razor's Edge.
Using the SS Razor in Your Game
When I whipped these guys up, I needed a bounty hunter ship that would go after my Travellers for raiding an imperial outpost and stealing a whole cargo-hold of renegade droids. They also stole the station's main computer core curing the fracas. The Travellers got their turrets knocked out, then beat the bounty hunters when they tried to board. They've been much more careful about keeping guard on the ship since then.

Posted in Character, Encounter, Traveller by Adam A. Thompson with no comments yet.