The chief Unicorn (me) went to snowy Lake Geneva last weekend to play games with friends old and new.
The big project was DOUBLE SIZED DIVINE RIGHT, a larger version of the rare fantasy board game of yore. I love playing the game, but the original version is too small for my aging eyes and trembling fingers at this point. So I decided to make a larger copy both for home use and for traveling with. One of the fans on the forums suggested printing it on vinyl, and in spite of my aversion to plastics I did so. My local print shop did an awesome job scanning the board and printing a vibrant, durable, and portable copy.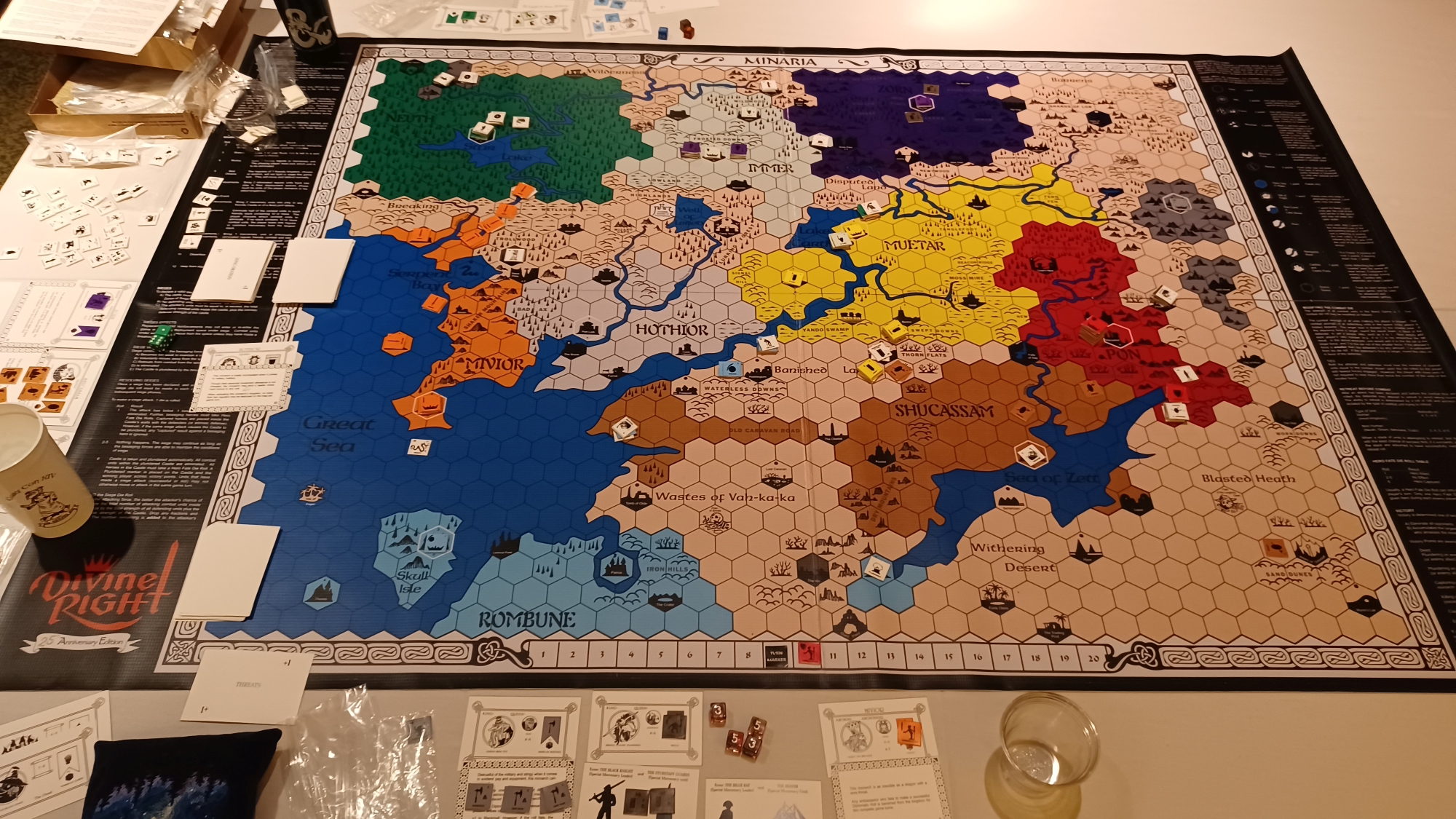 For the chits and cards I used the .pdf files on the CD-ROM that came with the 25th anniversary edition. The same local print shop printed them on cardstock, which I glued down to matte boards with archival glue. Once they were dry I started to cut them out with scissors and art knives, but only got about halfway through when I ran out of time and hand strength. That matte board is tough stuff, but playing with the bigger chits was worth the work. Back to the local print shop which did a decent job cutting the remaining chits out.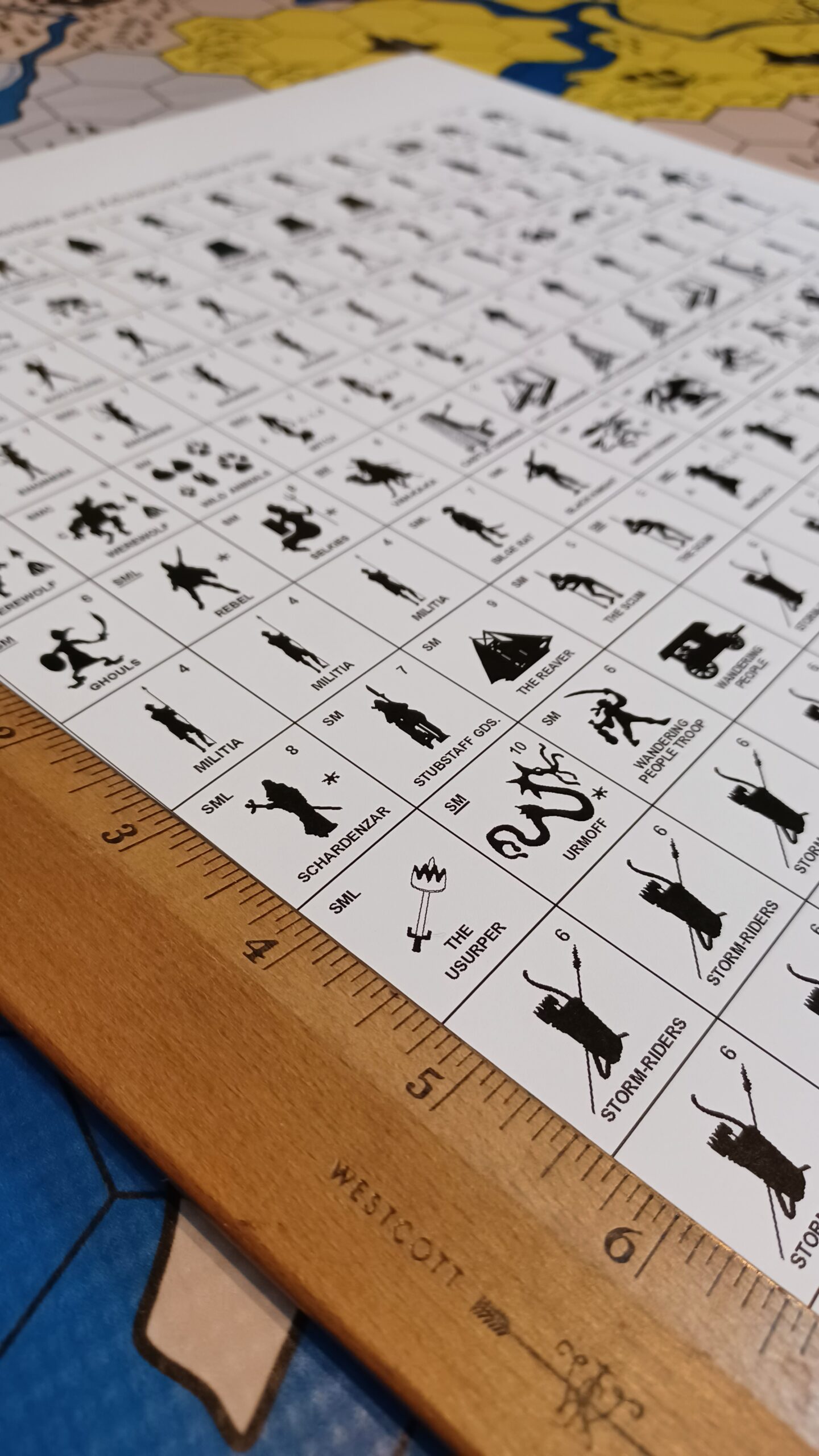 Playing with the larger version on Thursday was great fun. I had two other players in the game, which threw off my plans. I had hoped to have 4 to 6 players, and I was going to play the Black Hand and mostly stay out of it. But with only three players that didn't make as much sense to me. So we drew kingdoms at random and I got Pon. Ethan got the Trolls, and John got the elves of Neuth. I ended up getting good rolls and activating Suchhasum, then Mivior, then the Goblins, then the Black Hand. The others did not do as well on their diplomacy rolls. Once my armies were organized, I sacked the blue city in the south, then the Black Knights Keep, and then headed north to face the elven, troll, and dwarf forces attacking my cities. Upon the banks of the Loudwater River my combined army defeated the elves and their king was slain. Meanwhile the goblins had sacked Immer's capital and captured their monarch. At the end of the day I had a tremendous number of victory points. But a couple lucky diplomacy rolls is all it really takes to give a player a big edge. Everyone showed great fortitude by playing all 20 rounds over the course of 11 hours (with breaks for meals and to see the wedding).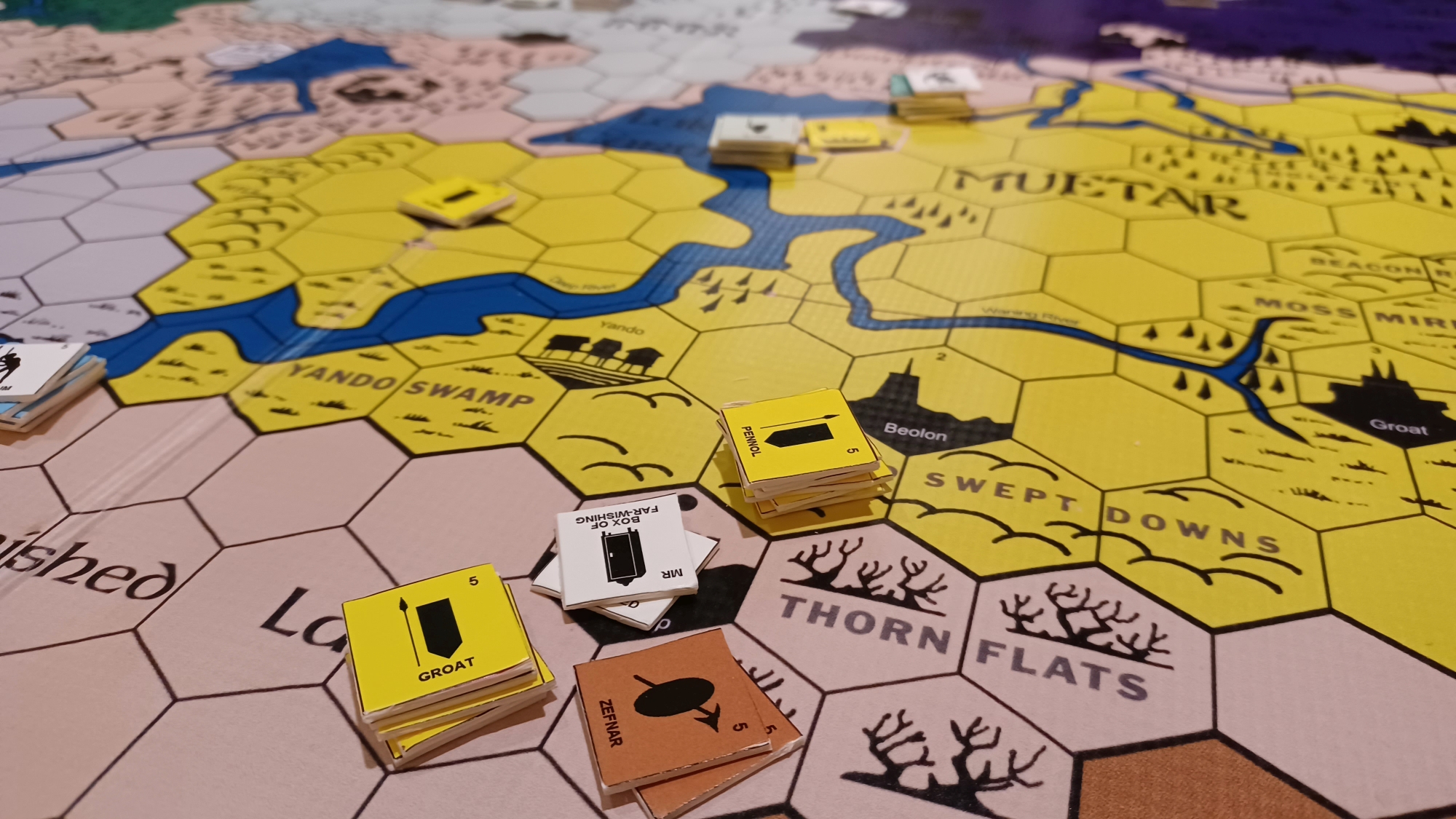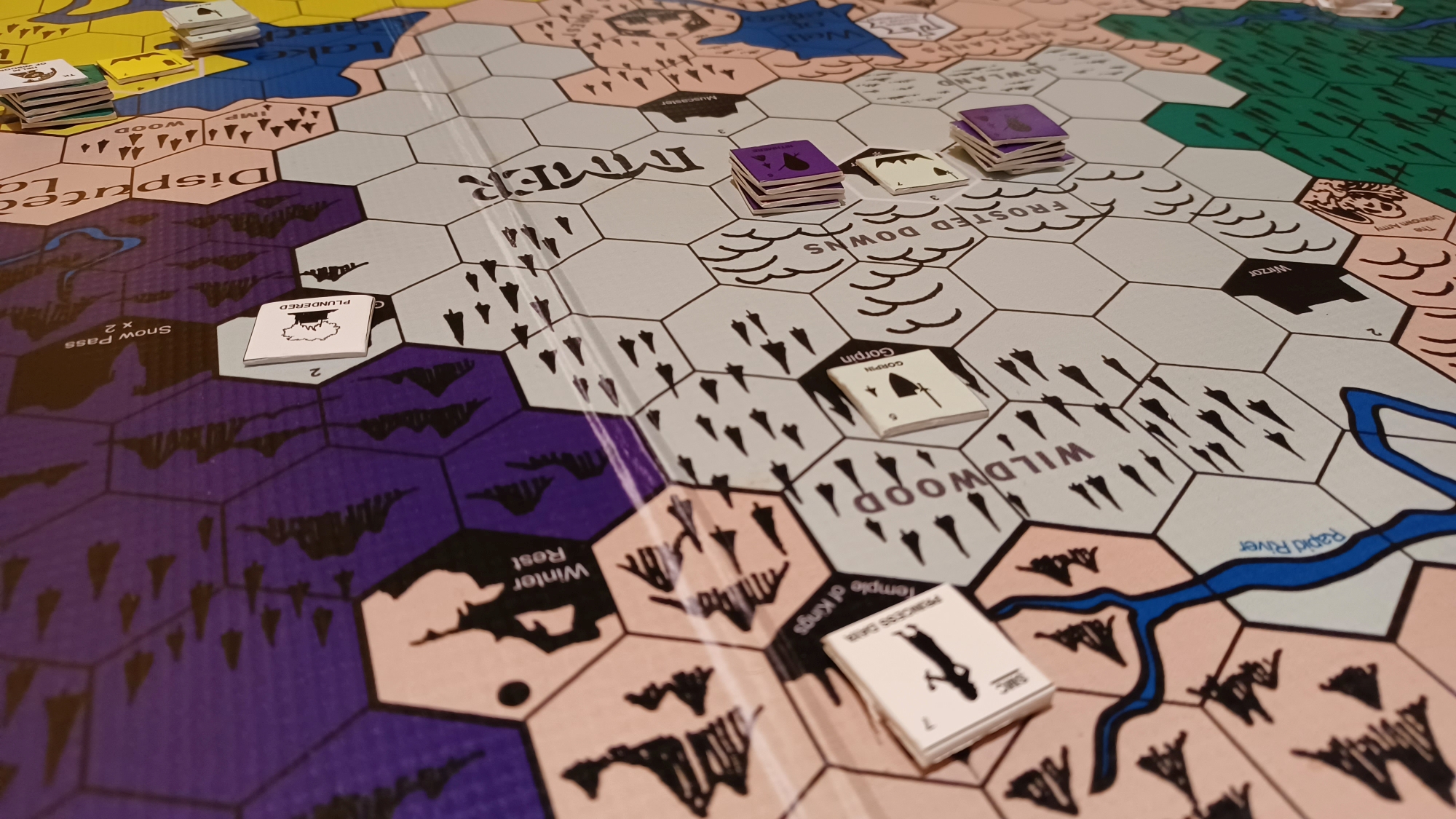 Now that I have all the chits organized, I'd like this to be a convention game that I run frequently.
Sending The Black Hand to break the siege of The Pits.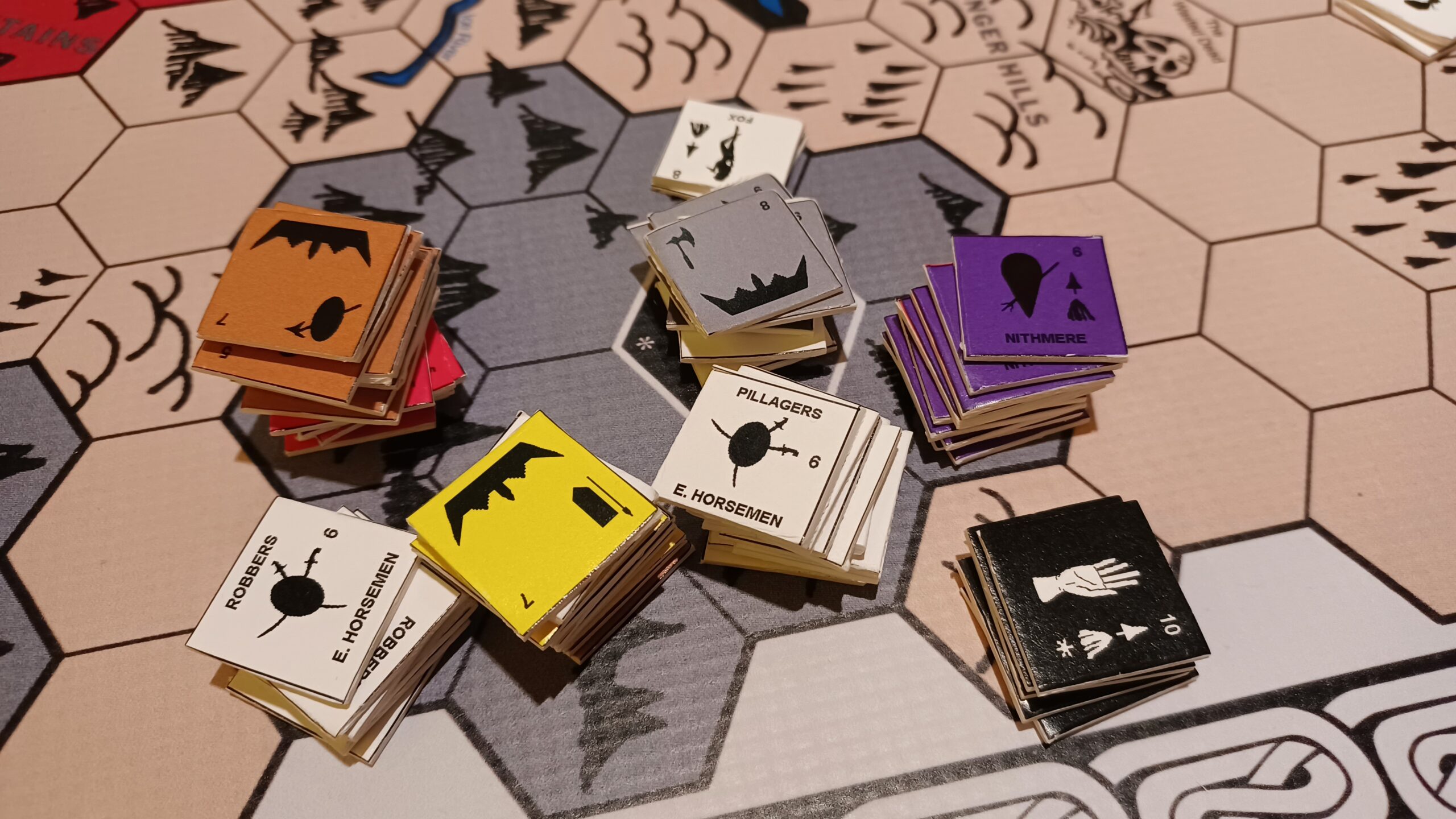 Besieging the dwarven capital.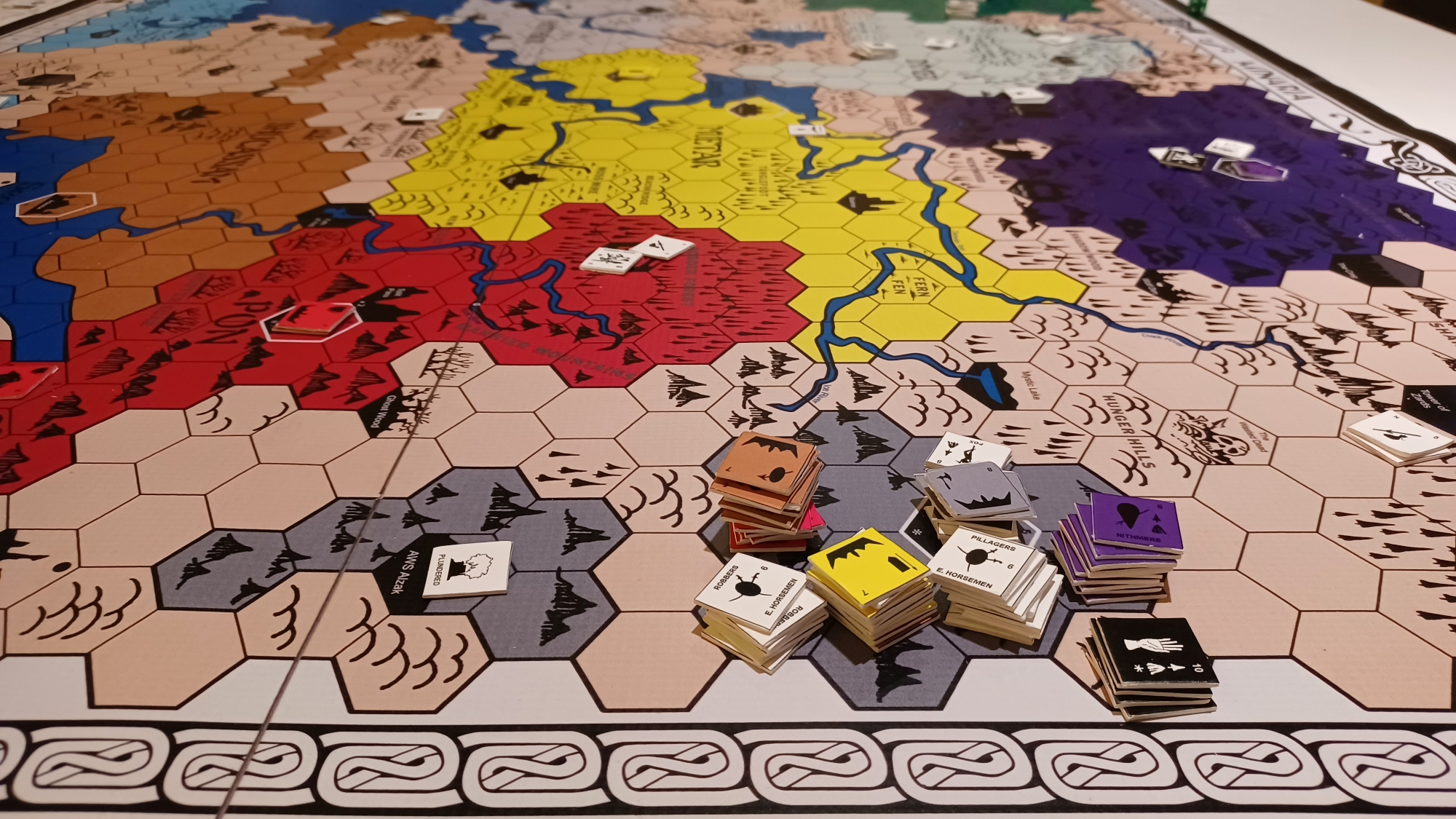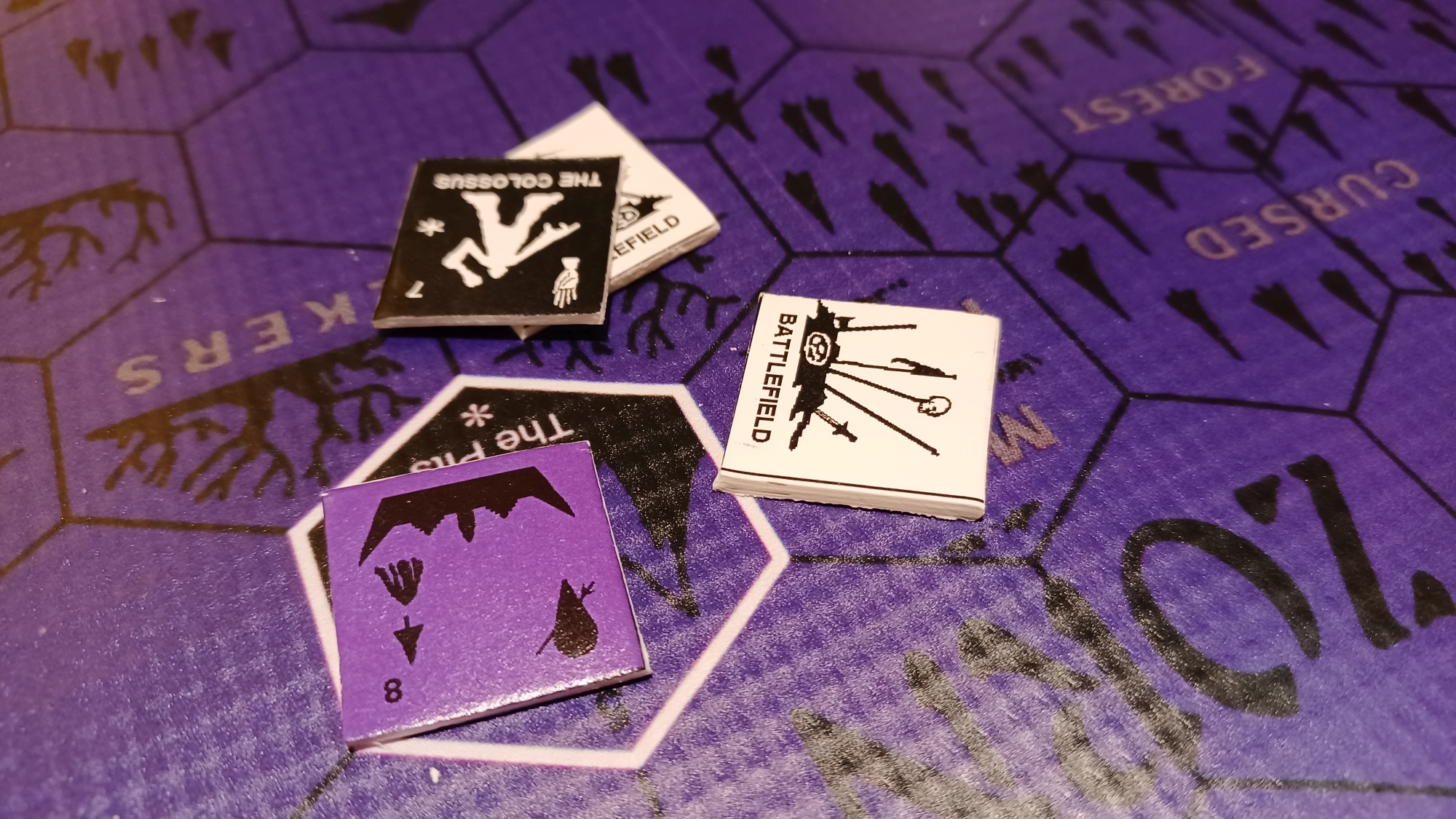 In the aftermath of the battle, the Black Hand constructed The Colossus. None would dare approach The Pits again. Pon and the eastern powers had crushed their enemies.

Posted in Board Game, convention, Fantasy, Lore / Worldbuilding by Adam A. Thompson with no comments yet.
The Unicorns have been hard at work on a special project for this year's Gary Con, and now it can be revealed!
DOUBLE SIZED DIVINE RIGHT
Everyone loves to play Divine Right, but the original printings are rare, expensive, and have tiny pieces that are hard to play with or keep track of.
So we made a bigger version! We had the game board printed on vinyl for easy viewing, transportation, and cleaning, and have printed up larger cards and game pieces for easier play!
Come see it at 2PM on Thursday March 24th at GaryCon in Lake Geneva, Wisconsin
https://tabletop.events/conventions/gary-con-xiv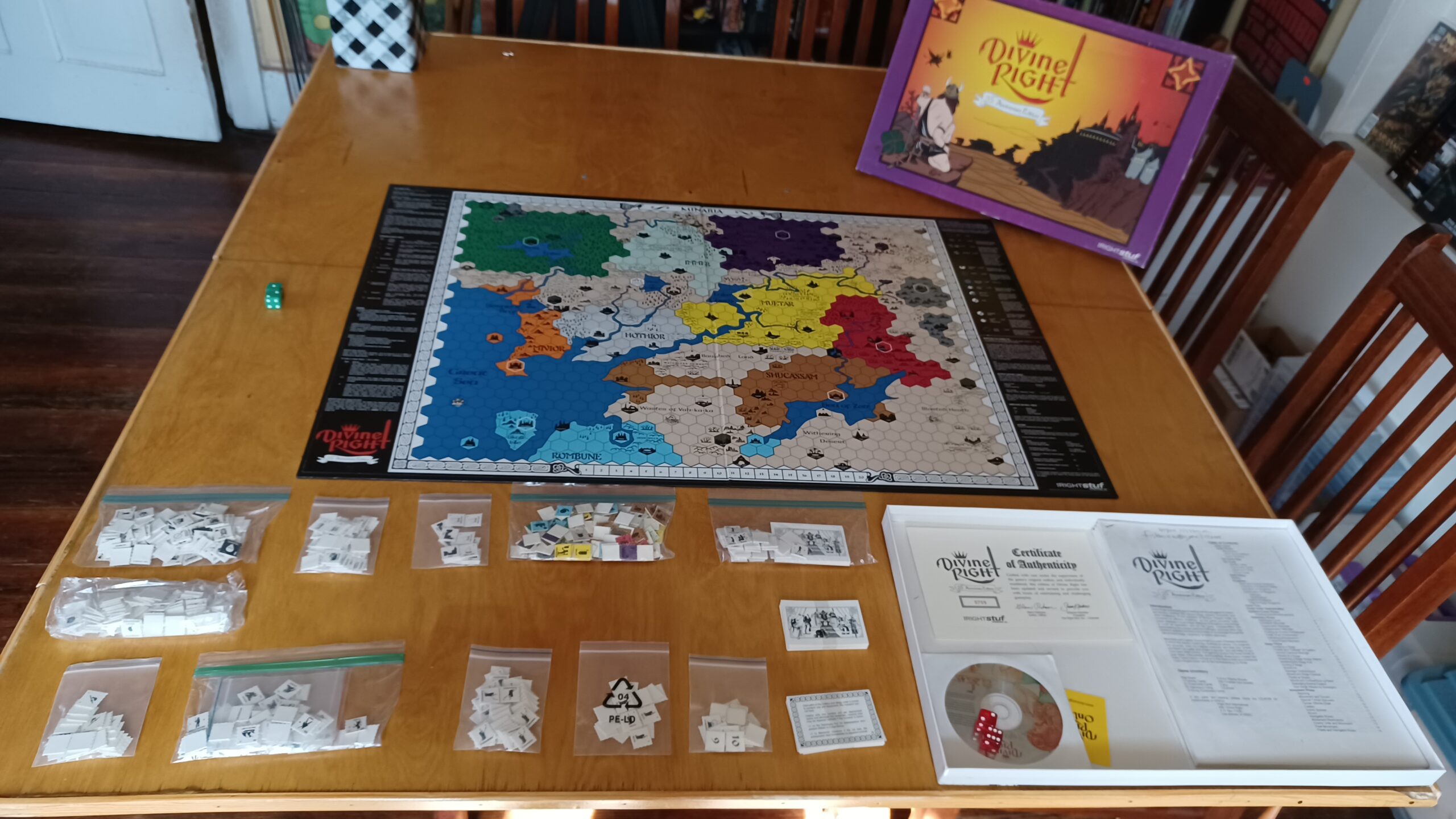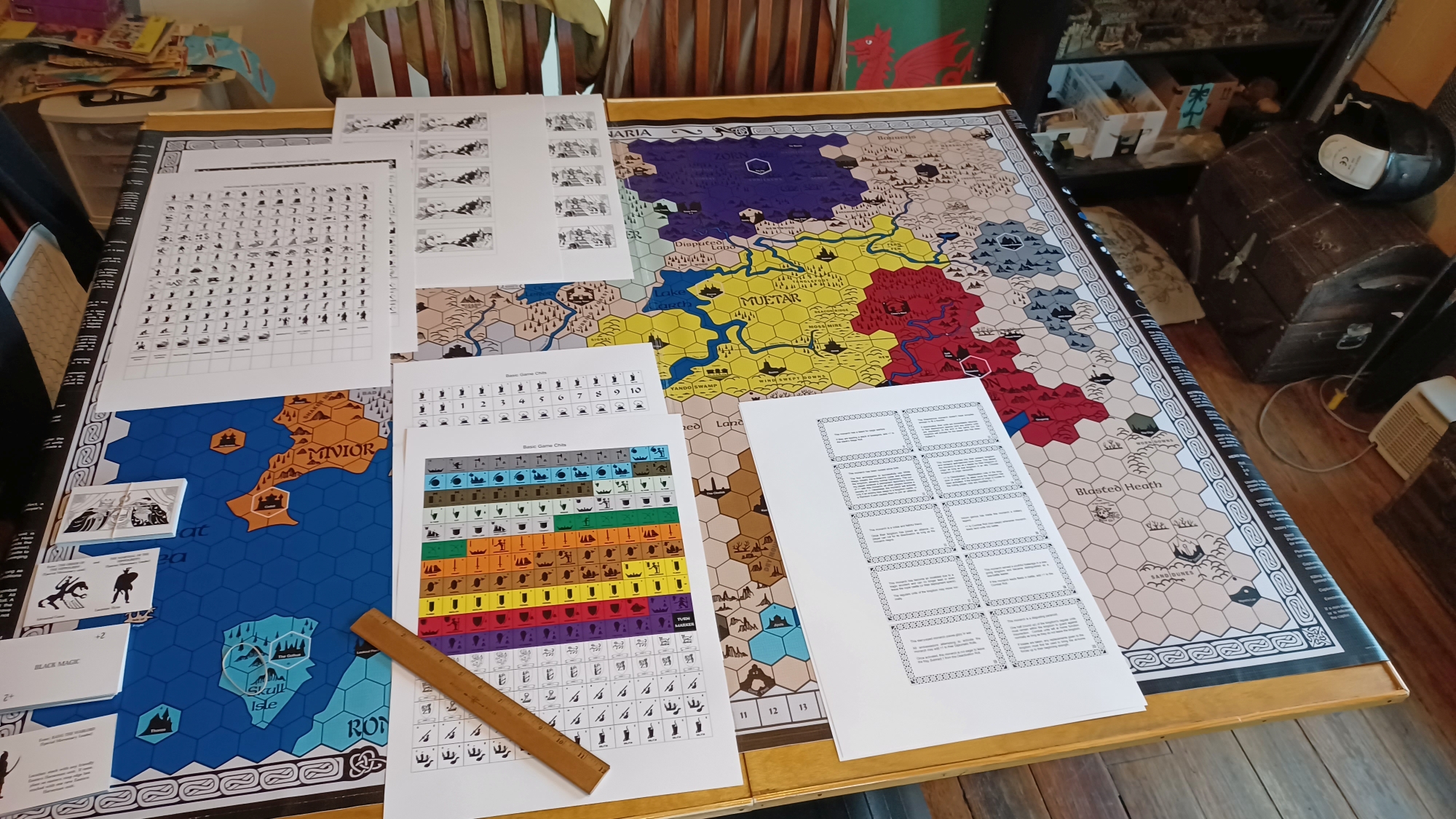 Posted in Board Game, convention, Fantasy by Adam A. Thompson with no comments yet.
After receiving several requests for this, we've added an uncut copy of the map for Vampyre Women of Venus (available in our store here). Now you can print this single file at any size you like for your home games of VWoV! No cutting or assembly required.
We sincerely hope you enjoy, and happy gaming!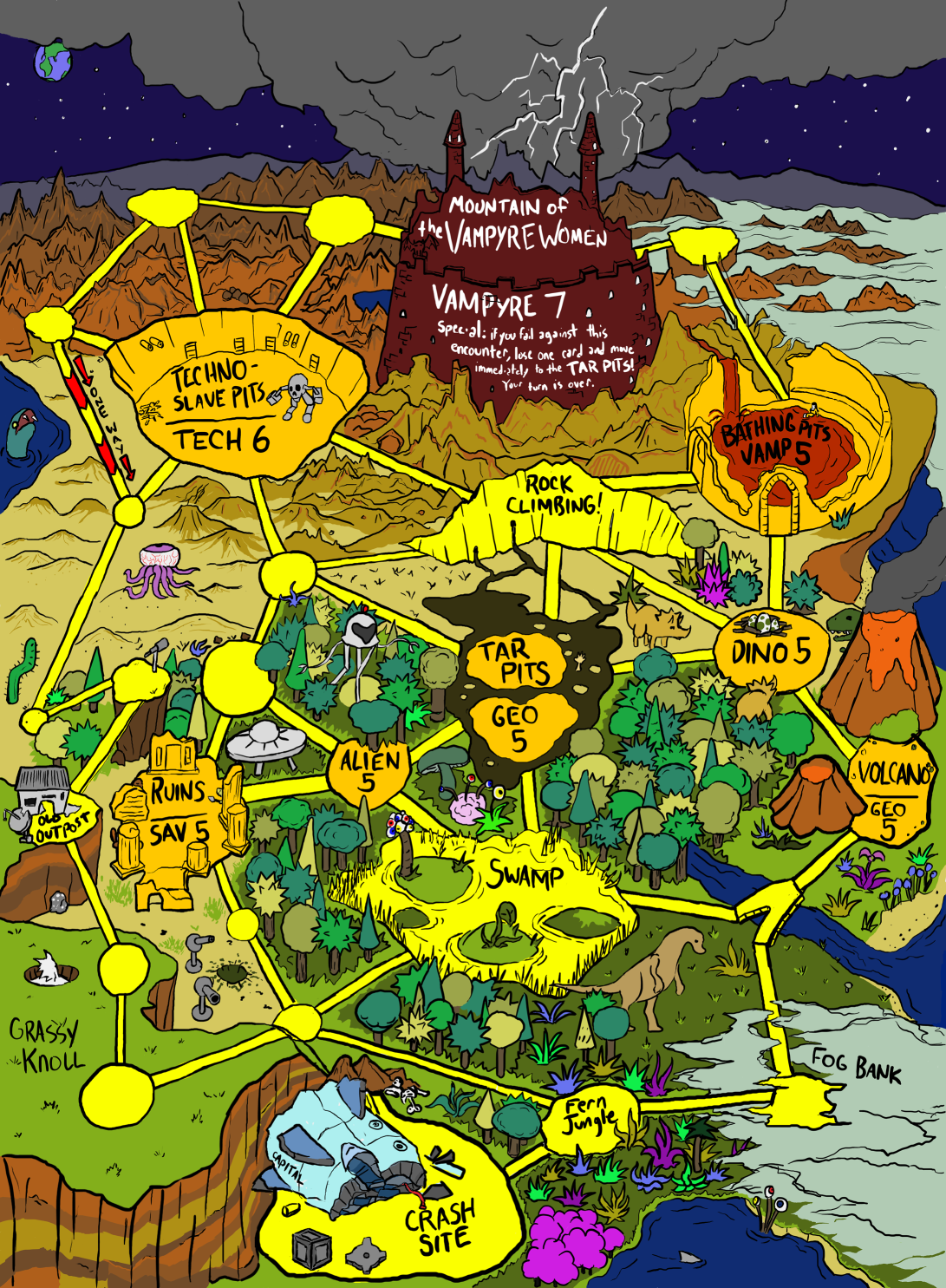 Posted in announcement, Board Game and tagged Vampyre Women of Venus by Adam A. Thompson with 1 comment.