These spacefaring fungal creatures have a complex polymorphic lifecycle. Although mindless, they are a dangerous invasive species.
In all of their stages they grow by externally digesting organic or chemically useful compounds and minerals, and also through a photosysthisys-like process that allows them to slowly grow even in the wan starlight of deep space. This process and the mineral-like composition of their outer skins even allows them to grow from the energy of pulsars, gamma streams, and radioactive materials like uranium oxide deposits or atomic warheads.
Their cyclical lifecycle proceeds as follows: from tiny Spores grow Starflowers, which will grow as slow or as fast as local conditions allow. Their color varies depending on the local available nutrients, minerals, and radiation. Their bulb-based, tubular flowers grow until they are large enough to form a Starseed for the journey into space.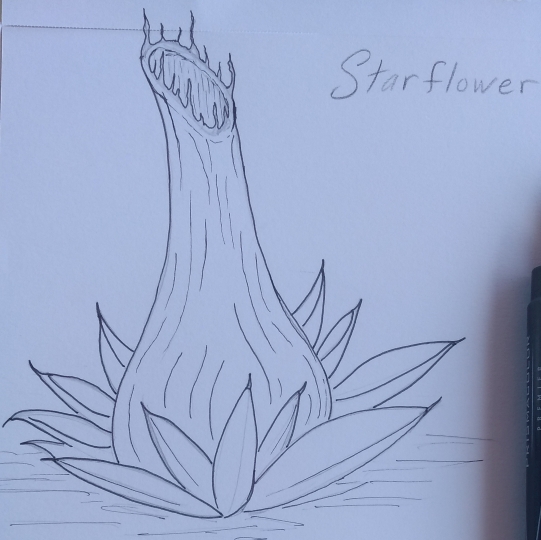 At that point the Starflower explosively launches the Starseed into the night sky, using the delicate fronds at the top to sense nearby stellar bodies for its progeny. The Starflower is blown into pieces by this process, which begins a cycle of regrowth. In being destroyed, the Starflower releases its internal defenders and the re-seeders of the flower: the Sporriors. Waiting encased in the Starflowers flesh are the nascent, ambulatory guardians who spread the Spores wherever they go. The destroyed Starflower's remains become fertile ground for a new, wider batch of Starflowers, and the process continues.
Starflowers sometimes explode when cut or struck, depending on their state of growth.
If the Starseed escapes the local gravitational body, and makes it into space, and it doesn't end up in a sun, it will break open upon impact, releasing Sporriors from their layered interiors and providing organic material for their new Spores to grow upon. If the Starseed doesn't make it to space, when it falls back down it breaks open and seeds a new area.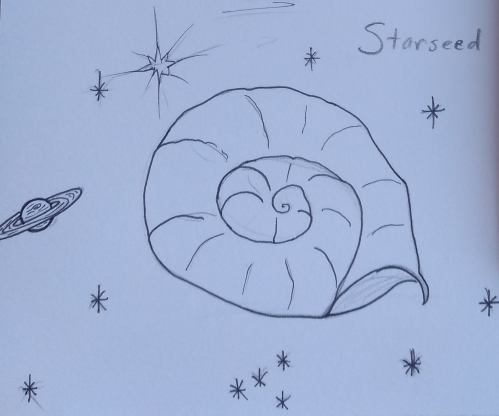 In the asteroid fields and on the tiny iceballs in the depths of dim interstellar space the Starflowers grow slowly and are only large enough to launch little starseeds away from their host body. They release tiny little Sporriors to slowly crawl around spreading new Starflowers.
On planets like Earth with rich local organic deposits, a warm nearby star, and 1G local gravity, the Starflowers will quickly grow to be 90 meters tall or taller before exploding, which launches Starseeds measuring 10-15 meters in diameter. At that size the conical, ambulatory Sporriors released when damaged are 2-3 meters (6-9 feet) tall and in circumference at the bottom of their caps.
Slow but steady walkers, Sporriors spill out from damaged Starflowers and Starseeds, and mill about spreading Spores. They can also climb quite well owing to the hundreds of tiny appendages on the bottom of their trunks. They move very quietly, which combined with their rocky-looking exteriors makes them stealthy.
As they move the Sporriors slowly drip spores suspended in digestive acids, which will grow into Starflowers.
Though lacking a central nervous system or language, they will quietly and steadily walk towards any sound or vibration they sense. And if their tough outer cap touches anything that is moving for more than a moment, be it a sapling or a curious child, they attack.
A hydraulic and chemical reaction causes their conical caps to flip up, inverting. This causes the burning sporewhips, which line the interior of the cap, to fling out in all directions around the Sporrior to a distance of 2-3 meters. The burning sporewhips lie in channels of digestive juices and Spores, and are raspy, so they cut, chemically burn, and possibly infect anything they hit. This reflexive attack also momentarily exposes the Sporriros softer inner cap and stalk.
Sporrior
large fungal plant
Armor Class: 16 (or 9 when attacking)
Hit Points: 48 (4d8+16)
Skills: Stealth +4
Move: 10′, climb 5′
Attack: +4 attack against all creatures within 10 feet / 3 meters, damage 1d4 + 2 slashing, 1d3 acid, and DC 12 Constitution Saving Throw or become infected with burning, itching, tiny-Sporeflower-growing spores. Unless treated with healing magic, technology, or DC 12 Medicine skill checks, the digesting spores will eat away at the infected creature's body, spreading and dealing 1d12 Hit Points of damage per day.
Challenge Rating: 1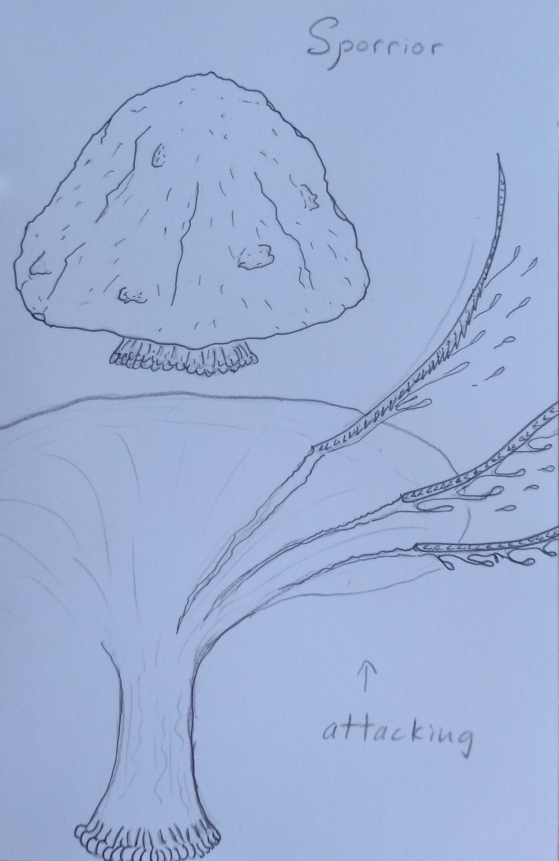 Posted in 3rd edition Dungeons & Dragons / d20 fantasy / Pathfinder, 5th edition Dungeons & Dragons, Creature, d20 Future, D20 Modern, Gamma World, Post-Apocalyptic, Science-Fiction and tagged alien, fungus by Adam A. Thompson with no comments yet.