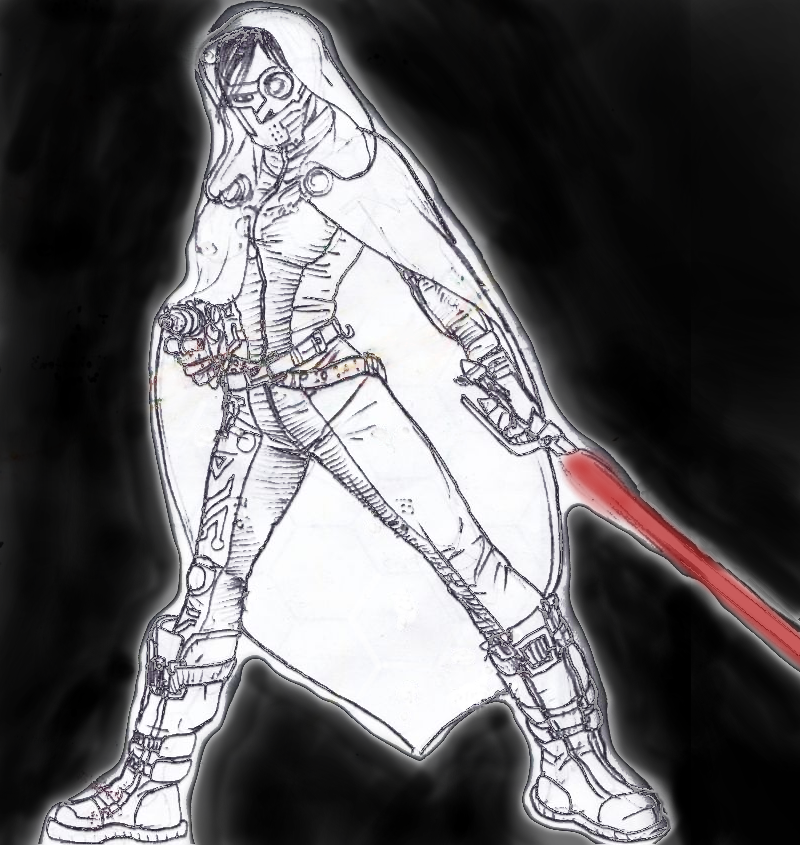 Referred to by a number of different names, these energy swords are the ultimate in melee weapons, and in the hands of a trained user can even be used to defend against ranged attacks.
A common design utilizes a gravitic field to create a variably-solid containment sheath for a powerful continuous ion, laser, or fusion stream. The gravitic field shapes the energy, gives solidity when blocking or parrying, and the energy stream is otherwise allowed to burn things touched. Basic models use a thumb switch to control the field's mode. Others have a gravitically solid center. Older designs simply have an on/off toggle.
The resulting "lasersword" or "plasmablade" has incredible destructive capabilities. It can cut through bulkheads, vaporize projectiles mid-flight, ignite flammable material, and reflect energy blasts. The light weight of the energy "blade" means these are very fast weapons, good for lightning-quick strikes, blocks, and parries. The wielder's melee (blade) score is considered to be +1 for the purposes of reducing the attacker's attack role when parrying. Parries can also be made against ranged attacks with these weapons. For example – a character wielding one of thees laser-swords with the skill melee (blade) 2 would reduce the attacker's roll by 3 points when they used the parry action.
These blades also allow a new type of reaction, known to the laser-saber masters as the "bunt block" (the origin of this phrase is lost to time). When successfully parrying a projectile attack with one of these weapons, the wielder can then make a difficult (-6) melee (blade) skill check to redirect the attack against a nearby target. Target reactions to dodge and rules for cover apply as though this were a regular attack roll.
Some of these weapons utilize specially tuned psionic crystals to allow psychic users to channel their mental powers into the weapons. Due to the nature of the psi-crystal's tuning, these generally need to be purpose-built, either by the wielder, or by one versed in psionic crystallography. These versions add the wielder's psionic attribute bonus to attack rolls and damage dealt and increase the cost of the weapon by %50.
At the referee's discretion untrained users who bungle while wielding these blades might accidentally dismember or maim themselves.
Some versions include advanced safety controls that modulate the gravitic containment field in such a way that the wielder cannot hit themselves with the blade. A gravimetric sensor attached to a purpose-built safety computer controls the field, connected to an additional gravitic field that prevents the energy blade from touching whoever is holding the hilt. This safety feature increases the cost of the weapon by %30.
Long-handled energy spears are a variation on these weapons, but due to their shorter blades are not as good for defense, and give no bonus on parries. Short-bladed energy dirks are also sometimes built for close-quarter fighting, but are also not as useful for defense. Neither are usable for parrying ranged attacks – only the swords allow enough coverage.
Energy Swords
Weapon – TL, Required Skill, Damage, Heft, Cost (Cr.), Mass (Kg), Special
Basic – TL 14, melee (blades), 3d6 damage, 0 heft, 3,000 Cr., 2 Kg, Ultra-AP (ignores 6 points of armor)
Advanced – TL 15, melee (blades), 4d6 damage, 0 heft, 5,000 Cr., 2 Kg, Ultra-AP (ignores 8 points of armor)
Supreme – TL 16, melee (blades), 5d6 damage, 0 heft, 10,000 Cr., 2 Kg, Ultra-AP (ignores 10 points of armor)
Psi-crystal – TL 16, melee (blades), 5d6 + Psi modifier damage, 0 heft, 15,000 Cr., 2 Kg, Ultra-AP (ignores 10 points of armor)

Posted in Equipment, Traveller and tagged weapon by Adam A. Thompson with no comments yet.