Now that I've covered the phenomenon of crowdfunding and the changes to the tabletop game marketplace evidenced at GenCon 2015, I'd like to move on to the eye candy.
There were a tremendous number of great costumes this year. There were also quite a lot of impressive miniatures and pieces of terrain. I snapped some pictures of everyone's wonderful hand-made art over the weekend as I wandered the convention. Here are a couple of my favorites.
Miniatures
There were lots of jaw-dropping paint jobs. The painting contest cabinet, in particular, was breathtaking.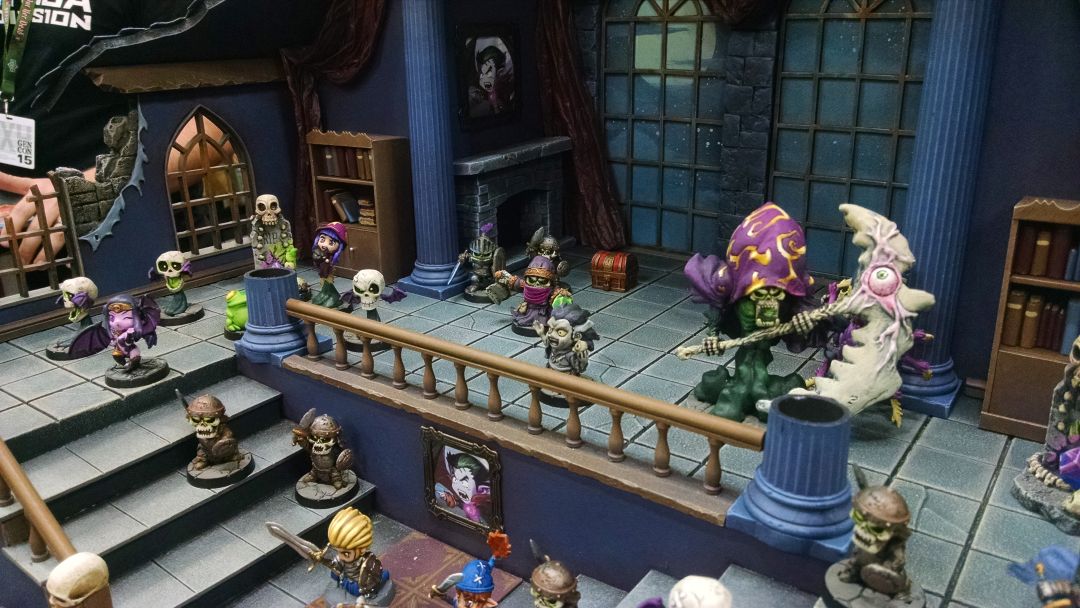 Posted in convention and tagged GenCon2015 by Adam A. Thompson with no comments yet.
Kickstarter's enormous utility has transformed the marketplace for tabletop games, causing an explosion of new games at GenCon
My number one impression from GenCon 2015 was, "Wow, look at all of these games I've never heard of!" In all my years of going to GenCon, generally only a handful of publishers were demonstrating wholly new products. This year I saw an unprecedented flood of new games. It seemed like every game I had ever heard of had a new card game, a new board game, and a new miniatures battle game based upon it. And there were dozens of entirely new games. Unsuprisingly, many of the banners said Kickstarter somewhere on them.
To me all the new games demonstrate the transformative power of Kickstarter on the tabletop game market. Tabletop players are a lucrative demographic for crowdfunding solutions like Kickstarter – they have disposable income and are comfortable spending money on the internet. It's also fun to see corporate juggernauts like Hasbro get cut off at the pass, economically speaking.
With all of that said, I'll cede the stage to the slideshow. Further thoughts on the show can be read below and in upcoming posts about GenCon 2015. (more…)

Posted in convention, Editorial, news and tagged GenCon by Adam A. Thompson with no comments yet.
The Traveller game in all forms is owned by Far Future Enterprises. Copyright 1977 – 2008 Far Future Enterprises. Traveller is a registered trademark of Far Future Enterprises. Far Future permits web sites and fanzines for this game, provided it contains this notice, that Far Future is notified, and subject to a withdrawal of permission on 90 days notice. The contents of this site are for personal, non-commercial use only. Any use of Far Future Enterprises's copyrighted material or trademarks anywhere on this web site and its files should not be viewed as a challenge to those copyrights or trademarks. In addition, any program/articles/file on this site cannot be republished or distributed without the consent of the author who contributed it.

Posted in legal policies, Traveller by Adam A. Thompson with no comments yet.