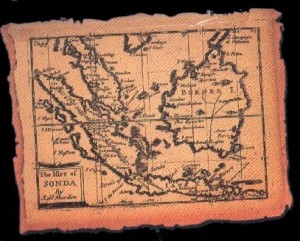 This campaign flavor is also a nice trap, or in the modern parlance, a hazard. Have a map available on a desk or pinned to a wall in a mage's tower, with a map pin corresponding to the current location. As the characters remove the pins and place them in new locations, the tower teleports them to the new location.
See how this can be used in various forms and in various environments, for instance representing the location of a large floating disk in a catacomb riddled with pit traps. The party will have to play with the pins on their confusing map (where are they, for instance?) until they find which one will bring them the disk. Meanwhile, other pins correspond to beholders and other nasty creatures, which the party inadvertently teleports in in their search for the disk.

Posted in Magic Item, Trap and tagged campaign flavor, hazard, map by Stephen Hilderbrand with no comments yet.