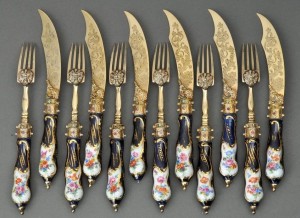 In sumptuous banquet hall in the Tower of Zards, the walls are festooned with skeletons in manacles. On a table laid with golden plates, cups, and cutlery, there lay beautiful bejeweled forks bearing a curse. Upon picking a fork up characters are compelled to begin eating themselves. Every round affected characters must succeed on a DC 13 Charisma or Strength saving throw or stab themselves with the ornate fork and eat their own flesh, dealing 1 HP of damage.
The skeletons in manacles will begin a mocking, cruel cackling if anyone picks up a fork and takes a bite of themselves.
If they are incautious, multiple player characters may end up feasting on themselves. The curse can be temporarily interrupted by intoning a solemn prayer to the gods, or through use of a cleric's turning power. The curse can only be ended permanently by a remove curse spell, or by melting the cutlery down, destroying most of their value. Until such time, any time the cursed PCs eat something, the curse activates again, they find the evil fork inexplicably in their hand, and they must make a Charisma or Strength save every round as described above. This may lead to fatigue or inability to rest if the players don't eat so as to avoid the curse.

Posted in 5th edition Dungeons & Dragons, Encounter, Magic Item, Trap and tagged cursed, Tower of Zards by Adam A. Thompson with no comments yet.